Daily Bread
Every Knee Bow – Philippians 2:10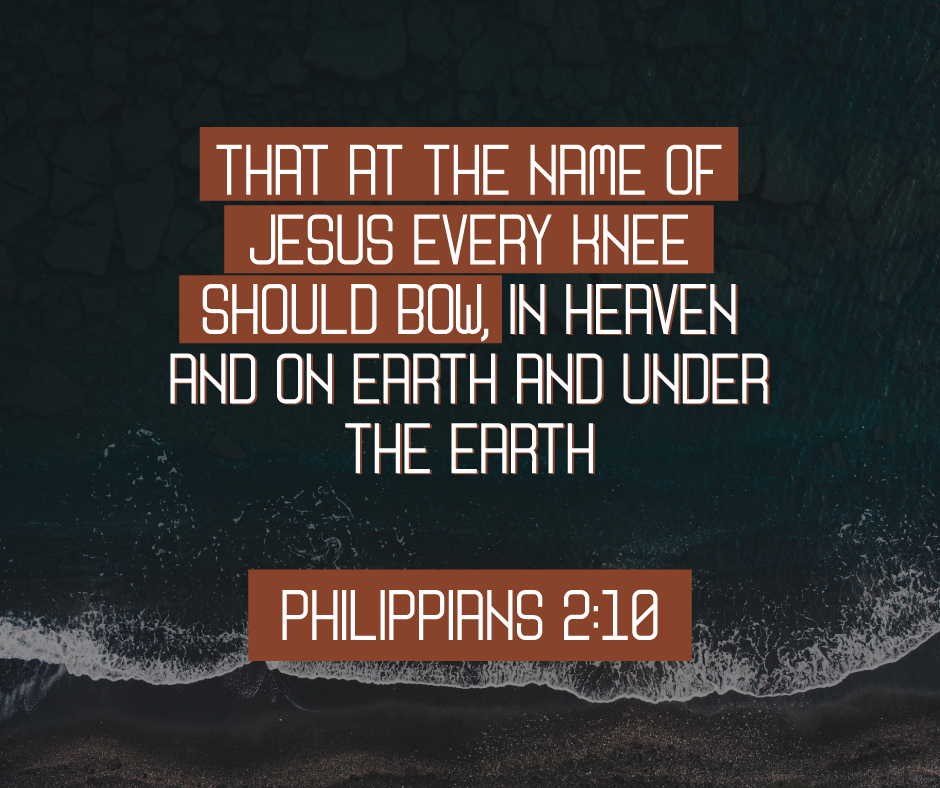 "That at the name of Jesus every knee should bow, in heaven and on earth and under the earth" – Philippians 2:10
As the Christian calendar ended last week, we have already started the new calendar that starts with the season of advent. We are then reminded in this season how our God, the treasure of heaven, the God incarnate came here to the world to save us from our sins. He came to the world as fully human who was destined to die for all the sins of the world.
In this season, we can once again start to reflect how much the love of God has poured unto us. We can reassess ourselves again on how much and how deep we understand this gift of salvation that was made possible by the death and resurrection of our Lord and Savior Jesus Christ. So, as we reflect on today's verse, Paul once again declared how Jesus is the true God and also true man. Indeed, Paul's greatest desire is to always praise his God and Savior.
Therefore, as Christians, we must always reflect on this verse for us to understand that at the name of Jesus, every knee should bow. He deserves all of our praises and adoration for the faithfulness and grace He bestowed upon us. Despite all of our sins, He still remained faithful and gracious towards us. We are all saved by grace through faith and there is nothing we can do to contribute for our salvation.
Many would claim that Jesus is only human and prophet. Many also believe that our salvation is not solely by grace through faith in Jesus for we need to do good works in order to acquire this, but these assumptions and interpretations are only contradicting what the Gospel really means. We have to understand that Jesus Christ is God and He is also man at the same time. We may possess only one nature but Jesus Christ possessed two nature which is one hundred percent man and one hundred percent God.
The Bible tells us that Jesus Christ is the Son of the living God but there is only one God. It may be so hard to understand and to grasp the full thought of the Trinity but through faith, we can understand this by heart for God reveals His purpose in our hearts and plants small seeds of faith for us to grow through meditating on His Word. Jesus Christ is indeed God and human for in the beginning was the Word and the Word was with God and the Word was God (John 1:1). What John meant by this Word is that Jesus was the Word and He became flesh to save us from all of our sins.
Therefore, in the name of Jesus every knee should bow. In His name, we can ask for anything. In His name, we can do all things for He strengthens us. So, it is just rightful to praise and adore Him in our bended knees for He is the King of kings and the Lord of lords. Jesus Christ is the prophecy being fulfilled. He is the promised One. He is the only way, the truth and the life. Only through Him we can have our salvation and only through Him we can be redeemed from the bondage of sin and death.
Let us always remember that Jesus Christ deserves all of our praises and adoration for His grace; for His love; for His faithfulness; for His mercy; and for His salvation. May we always put in our minds that bending our knees is never enough to express our gratitude for Him but it is our way of showing that we acknowledge Him as our God, our Lord and our Savior. It is our way of submitting to Him. It is our way of telling Him that we want Him to control and rule over our lives and to let His will be done. Every knee should indeed bow down in Jesus Christ's name.
---
For more daily reflection, verse and encouragement, you may follow us. You can also like, follow and visit us on: