Devotional
Entrust Your Life – Psalm 143:8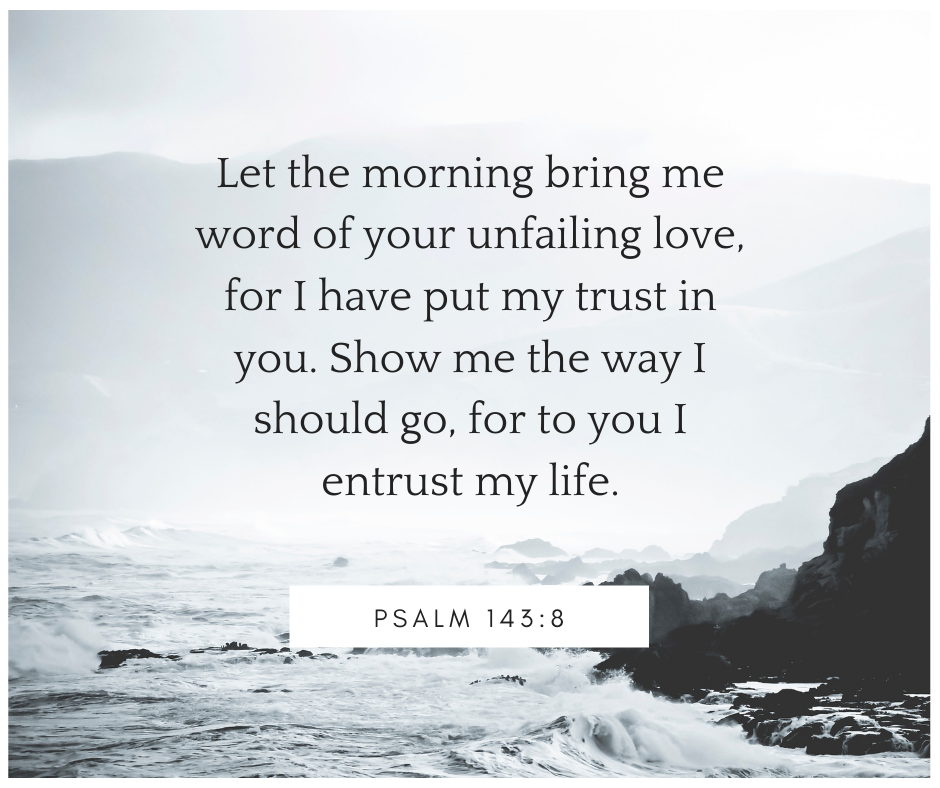 "Let the morning bring me word of your unfailing love, for I have put my trust in you. Show me the way I should go, for to you I entrust my life." – Psalm 143:8
As the first day of December starts today, we can hear so many Christmas songs playing around. We can see people decorating their Christmas trees and we can see so many families already preparing for their Christmas celebrations. Indeed, it is the most wonderful time of the year. The Advent season is the happiest time of the year and the most joyous season of the year for this is where we are reminded of the coming of our Savior in this world.
In our verse today, we are also reminded by a psalm written by David which is longing for the Lord. David sounded like a young boy, crying for help to the Lord. Well, indeed, we are all young children when we ask for the Lord's help. However, in this verse, we can clearly see how much David longs for God's mercy. He practically declared to ask God that He may show him His unfailing love in the morning and asked God to show him which way he should go because he entrusted his life to Him. This prayer is very innocent and shows longing to God.
So, let us cut this piece by piece. First, David asked God to let the morning bring word about God's unfailing love because we all know that God's love was perfectly shown through Jesus Christ's death and aside from that, one greatest proof of God's love is through enabling us to wake up every morning. Waking up every morning is such a big blessing already. During the night of vulnerability, God has sent His angels to protect us from the enemy. We can never know how big the spiritual battle is happening during the night just for us to wake up in the morning.
It is indeed a great mercy and grace to wake up every morning knowing that God has won the victory in the night again. This is why, David also wrote the part, "For I have put my trust in You." Going to sleep every night without knowing if you will wake up the next day will really make you worry but as long as you put your trust in the Lord, you know that you will wake up in the morning refreshed, renewed and got another chance to thank God for your life.
Second, David continues to write about asking God to show him the way he should go. This is pure trust. When you ask someone directions or let them guide you, this shows pure trust. As human as we are, we have trust issues and the moment we let someone guide us into places we don't know means that we trust them enough. So, just as David asked God to show him the way he should go, David trusts God so much.
Thus, he continues to write that he indeed entrusted God with his life. Which just means that in conclusion of this prayer, David trusted God with all his heart and life. He acknowledges God as the God who directs his path and who will bring him into His arms always. He knew that God will win victory over victory for him and will continue to grace him with His loving kindness every morning.
Therefore, as Christians who also witnessed God's love, grace and mercy firsthand, we should be encouraged with this prayer. We too, just like David, entrust our lives to God and let him win victories in our lives. Let us not claim the victories God has won as ours, but completely submit and bow down to His will. Again, as today marks the first day of December, we are always reminded that for the past months this year has been rough. We were placed under quarantines, under lockdowns because there was a pandemic outbreak but this also proved that God has been so faithful and loving to us for we are still alive and today, we still managed to wake up in the morning, embracing the cold breeze of December.
As this month starts, let us not forget who made all the mornings bright, refreshing, possible and renewing for us. Let us not forget that God was with us all during the night of our vulnerability, shielding us from anything that can harm our body, soul and spirit. Let us not forget that the God who died on the cross for our sins is the same God who makes waking up in the morning possible for us. May we always remember that this month or this season of Advent, we are reminded of God's love, faithfulness, mercy and grace that goes way back to the creation of the world. It is a reminder for us about the prophecy fulfilled. May we always trust God with all our heart and submit everything to Him and let Him guide our ways so that we will always abide with Him for He always abide with us.
Let us welcome this month with joy in our hearts and thanksgiving to our God for He made the past months bearable and He did not leave us. Praises and glory all belongs to Him and Him alone who made the heavens and the earth. Thanksgiving and glory belongs to Him and Him alone who died for our sins so that we will be united with Him in heaven. Adoration and glory belongs to Him and Him alone who strengthens and restores our faith everyday. We declare blessings, healing, guidance and thanksgiving for the rest of the month. We declare that the end of the pandemic is at hand and that forgiveness and restoration will be with us by grace through our faith in Jesus. In Jesus' mighty name. Amen.
---
For more daily reflection, verse and encouragement, you may follow us. You can also like, follow and visit us on: