Daily Bread
Empty Words – Ephesians 5:6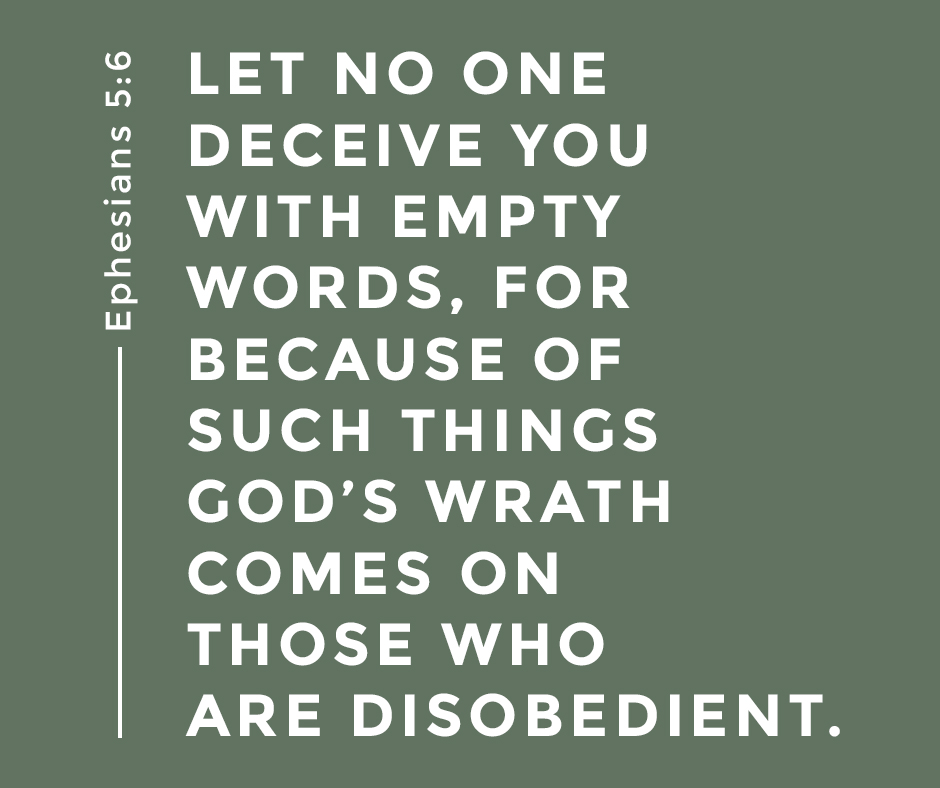 "Let no one deceive you with empty words, for because of such things God's wrath comes on those who are disobedient." – Ephesians 5:6
It is a common knowledge that we humans, who are always sinning, are easily persuaded with words. No matter how much we deny it, we don't assess if words are with weights or just empty words. Now, in our verse today, Paul wants to remind us that we should not be deceived with empty words. The words that are spoken in this fallen world are nothing but empty. All of it is empty and will not do us any good.
Even if we try to give these words the benefit of the doubt, we have to realize that it will never be bountiful and fruitful for us. It is true that this fallen world offers a different and great deal of satisfaction. Sexual immorality, fornification and many other things that our flesh desires are indeed satisfying our flesh but think of it, is there anything we can benefit from those? The answer is no— there is no good thing in satisfying our sinful desires. It will only bring us into the path that God does not want us to go.
Indeed, we can say that we can benefit from those desires because we feel good and satisfied but that's just it. Our flesh is satisfied for quite some time and that's just it. This is why it is called empty words because it is empty, it is lacking and it only brings you to condemnation. Now, since this is a verse for our reminder, Paul also mentioned why we should not be deceived by these empty words. Paul wants us to know that because of these empty words for the wrath of God will come to those who are disobedient.
We are disobedient and deserving of the wrath of God but since Christ has died for us all, we won't receive the wrath of God anymore. However, we have to understand that a saved person is a changed person. Thus, we have to walk our salvation. Meaning, we have to live our lives as changed people, not as people who still desire to sin but as people who only desire the Will of God. Therefore, we should not be deceived by these empty words. We should not let this fallen world talk us into falling off the wagon again and leaving God's presence.
We are called to be obedient to God, although before we don't have the power to do that, now, we have the power to obey God. Through Jesus Christ, His death and resurrection, it has given us the power to obey God and to say no to sin. Therefore, we have the power to not be deceived and through Jesus Christ we can resist it. Let us just remember not to be deceived by how this world perceives things. All of the things this world thinks is okay like sexual immorality, murders, stealing and idolatry, is not okay with God.
May we always remember that our standard should be of God and not of the world. Let us put in our minds that this world will always try to deceive so we can go off the wagon again but now, we are saved by grace so we have the power to really say no to these deceitfulness and not sin again. Therefore, may God strengthen us and remind us always that we are of Him and not of the world. May we obey Him at all times and only desire His Will.
---
For more daily reflection, verse and encouragement, you may follow us. You can also like, follow and visit us on: