Daily Bread
Difficult Love – Luke 6:35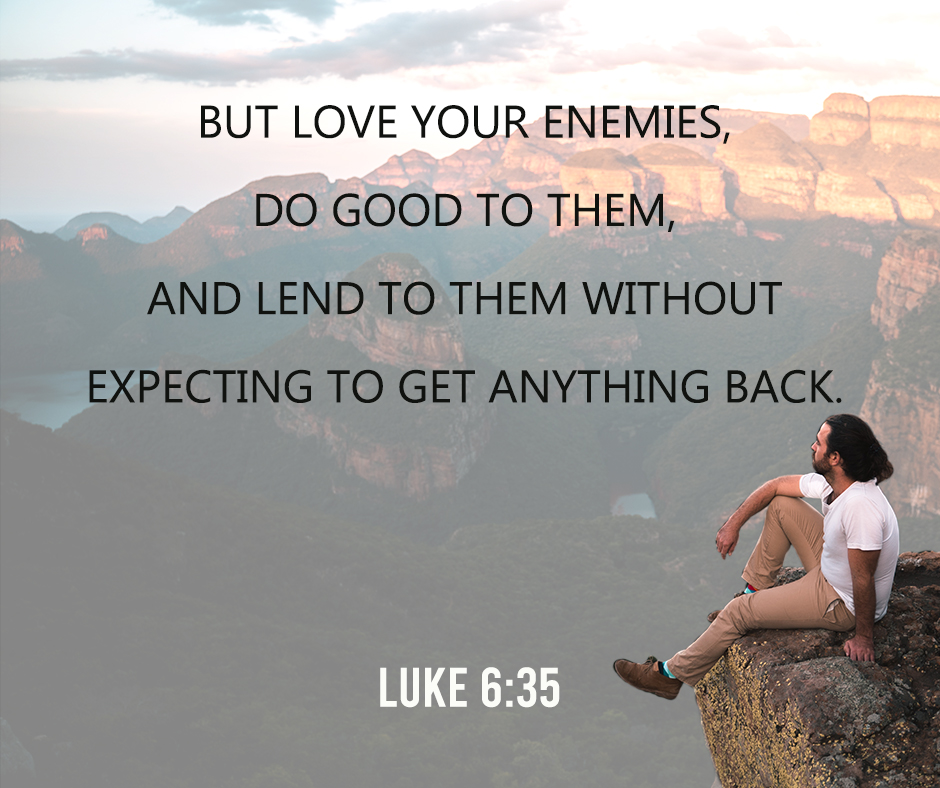 "But love your enemies, do good to them, and lend to them without expecting to get anything back. Then your reward will be great, and you will be children of the Most High, because he is kind to the ungrateful and wicked." – Luke 6:35
It is very easy for us to love the neighbors who love us too. What happens is that we only open ourselves to the people who give us the same special treatment and love. If ever we feel rejected and unloved, we also reciprocate those feelings towards those specific persons. However, this love is indeed good but it is not credited for it naturally flowing from us. It is the love that we can easily show without having to put effort into it. Although we have different motives, it is still true that we can still show love to those who love us too. 
Now, our verse today talks about Jesus telling us to love our enemies, without expecting anything in return. Indeed it is true that this is very hard to do. It is so hard to love our enemies. It is even so hard to at least give them anything especially if we don't like them and we really don't want to give them attention. However, just as Jesus said we have to love others even if our enemies because we will be children of the Most High. 
Yet this does not mean that we have to love them or do this for us to be saved. We are already saved by grace through faith in the works of Jesus Christ. However, since we are already saved by grace through faith, we are now ought to love others just as we are loved by our Savior. We are enemies of God, we are ungrateful and sinners but still, God chose to love us anyway. So, we have to remember that we have to love our enemies without expecting anything.
After all, we don't need to have anything for exchange because God has already given us everything that we need. Therefore, we must always remember that even if it is hard for us to love those people who are our enemies, we still ought to love them. It is not because we are good, but because as Christians, we have experienced unconditional love firsthand. Thus, as we have known this love, we know that we are undeserving of it. 
So, even if we see our enemies undeserving of our love, we must know that we too are undeserving of God's love. Therefore, we must really show love without expecting a return of it, not for the reason that we will be saved if we do it, but for the reason that God will be glorified through it. We will be showing the love of God towards others through loving our enemies and those who are unloveable.
---
For more daily reflection, verse and encouragement, you may follow us. You can also like, follow and visit us on:
Facebook: 

https://www.facebook.com/yd153

Twitter: @YD153

Instagram: @youngdisciples2020

Tumblr: youngdisciples

Pinterest: Young Disciples International