Daily Bread
Demonstration of Love – 1 John 4:9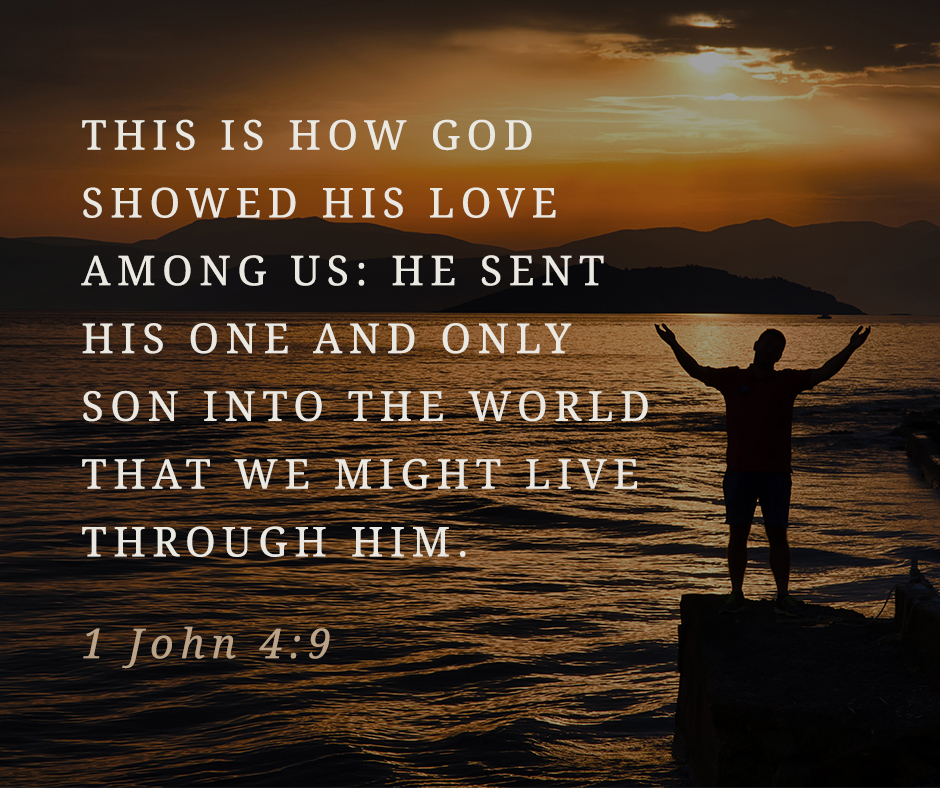 "This is how God showed his love among us: He sent his one and only Son into the world that we might live through him." – 1 John 4:9
Death and life are both two opposite things happening in our life. Every minute there is someone who is born and in every minute somewhere in this world, someone dies. Thus, life and death can be so different but it is part of our life and everyone undergoes both. Now, before we go talk about death and life, as we read our verse today we can see that this verse is almost the same as  Romans 5:8. In the verse, Paul mentioned how God demonstrated His love towards us, and our verse today talks also about how God showed us love towards us. 
In the same way, we can see that this verse has only the same thought and that the bottom part of this is that God showed His love towards us by saving us while we were still sinners through sending His Son. Thus, our salvation really comes from God and Him alone. We will never have it from somewhere else or from someone else. Now, this salvation is not merely just an act of saving us, but it is an act of love. We are people who always doubt if someone tells us that they love us. One main reason why we doubt is that we can never grasp the idea that someone can love us. 
We know that we are sinful, we know that we are lacking, and we know that we are never good. So, our mind automatically sets up a barrier to always question people telling us they love us if they truly do. It is hard for us to accept the fact that someone can accept us and someone can forgive us. That's why God, knowing our nature, has shown us and demonstrated His love for us in the most visible way which is through Jesus Christ. He sent Jesus Christ, His one and only Son as the ransom for our sins. 
No one can ever sacrifice their life for us, no one can ever become selfless just so we will be saved, only Jesus Christ. However, we remained ignorant and passive about it. God showed His love towards us through Jesus Christ but still, we don't believe Him and even rejected Him. However, God remains faithful and He will still achieve His good purpose in our lives, that is to save us through Jesus Christ so that we will have life through Him. Having life through Him means dying from our old self and living a new life that is in Him. 
Let us talk about death and life now, as mentioned above, both are present in one's life. However, there is a wide time difference between them. Yet to what John mentioned in our verse today, we will have our life through Him. Therefore, the time difference between living and dying both happens at the same time we accept Jesus Christ as our Lord and Savior. We will die and we will then live at the same time. Meaning, our old self dies at the same time we accept Him and we will instantly be born again to live a new life. 
Indeed what an amazing life God has given us that although we are sinners, we are saved by grace through faith in Jesus Christ. Through it also, we are given a chance to be reborn and to live a life that is only pleasing to God and only desires to obey Him. Therefore, now that we know that God has shown us His love towards Jesus Christ, may we open our mind and open our heart to Him knowing that a God who is faithful, loving, and holy can love us even if we are sinful and deserving of His wrath.
---
For more daily reflection, verse and encouragement, you may follow us. You can also like, follow and visit us on:
Facebook:  https://www.facebook.com/yd153
Twitter: @YD153
Instagram: @youngdisciples2020
Tumblr: youngdisciples
Pinterest: Young Disciples International