Daily Bread
Delight and Desire – Psalm 37:4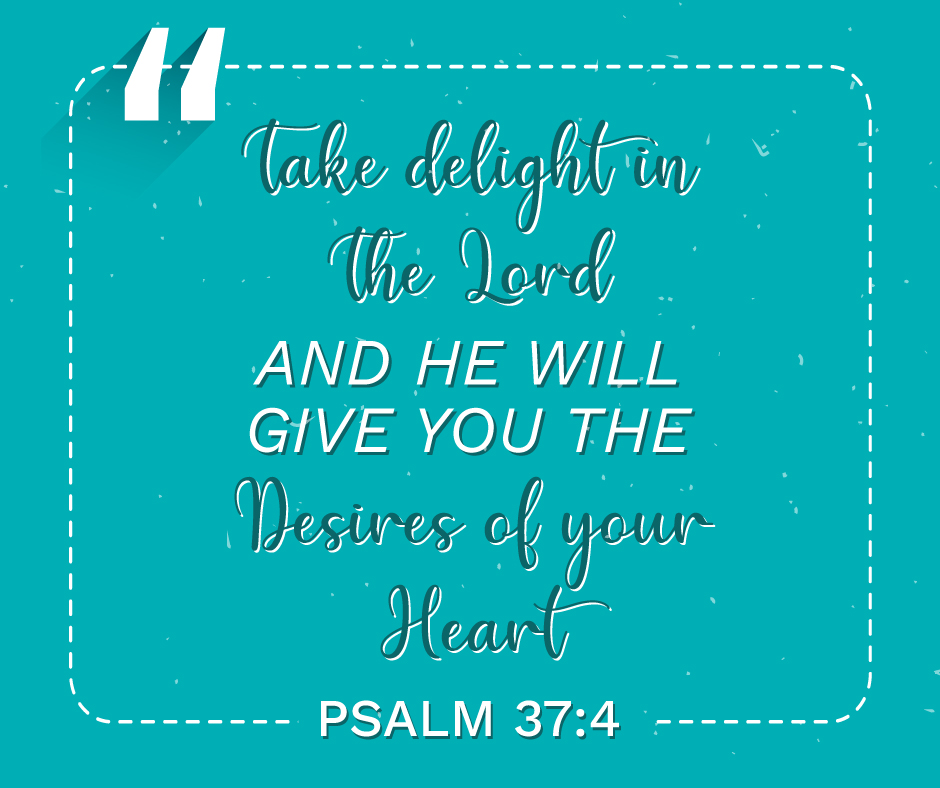 "Take delight in the Lord, and he will give you the desires of your heart." – Psalm 37:4
Have you quoted this verse too? Have you used this verse to greet someone with a happy birthday? Do you quote this verse to encourage and to wish someone good? Have you also used this verse to remind yourself all the time about the promise of God? Then, you are not alone! There are many people who quoted this verse for so many reasons and even used this verse as their life verse. It's not wrong to do this because in fact, everything in the Scriptures are worth repeating and worth remembering. 
However, we most of the time misuse this verse and do not understand the real meaning of this verse. We usually have the wrong concept in mind and we bend the real meaning of this verse to what we want it to mean in a specific moment. Now, let us reflect on what this verse truly means and what we should understand from this.
Through this verse, God wants us to understand that taking delight in Him means we should be pliable, moldable and submissive to His will. Delight and desire are two different words but can be used at the same time that can denote the first step and second step in achieving satisfaction. So God faithfully bulleted it for us and it is just sad that we most of the time understand this in a wrong way.
We have to understand that gaining the part "He will grant the desires of your heart", we have to follow first the "Take delight in the Lord". We have to do the first step first before we can go to step two. Delighting in the Lord means we have to fully submit in Him. Delight means being happy, contented and continually seeking the Lord. We have to seek Him and align ourselves to His will.
Aligning ourselves to God's will is perfectly submitting to what God wants us to. We have to fully surrender everything to God and let Him take over our lives. We have to understand that as we delight in Him, we are delighting and dwelling in His presence and through this we will be able to understand what Christianity truly means.
As we delight in the Lord, He will then grant the desires of our hearts. Now, this is where we are mostly wrong. We think that as God promised to grant the desires of our hearts, we then receive anything that our hearts desires. Which is entirely wrong! We must understand that God does not want us to love what is in the world and to love what this world can offer for it can only offer destruction.
This is why the first step is to delight in Him because as we delight in Him, our lives will be aligned to His will and as our lives are aligned to His will, we will then desire what He wills. God looks out for us and He wants us to live our lives holy and pleasing (which we can never do), so in order to do that, we must trust and believe in Him for He died on the cross for Him. So, as we truly believe and finally aligned ourselves to Him, we will then desire something deeper than money, fame, love and many more that this world can offer— our everlasting life, our salvation and our reunion with God.
This is why doing and understanding the first step is very important. We have to understand that we will be delighted in God, and then we will desire in our hearts His Will be done and then He will grant this. He will always grant these desires because after we submit ourselves to God, we will not desire evil but only His will. However, we cannot still avoid the fact that we are sinful and that our hearts will always crave for our flesh and for our satisfaction in this world.
Let us then remember that delighting in the Lord doesn't only stop at one time, but is a continual process. It should be done everyday so that everyday too, we will be aligned in His will and we will only desire what's good for us. As we delight in Him, we will always then desire our salvation. If we always desire our salvation, we will also always desire a repentant heart and we will desire for Him to give us strength to avoid evil. In short, if we delight everyday in Him, our hearts will also always desire Jesus Christ— our Savior, our Redeemer and our Lord.
---
For more daily reflection, verse and encouragement, you may follow us. You can also like, follow and visit us on:
Twitter: @YD153
Instagram: @youngdisciples2020
Tumblr: youngdisciples
Pinterest: Young Disciples of Jesus