Daily Bread
Death is the Opening Door – Philippians 1:21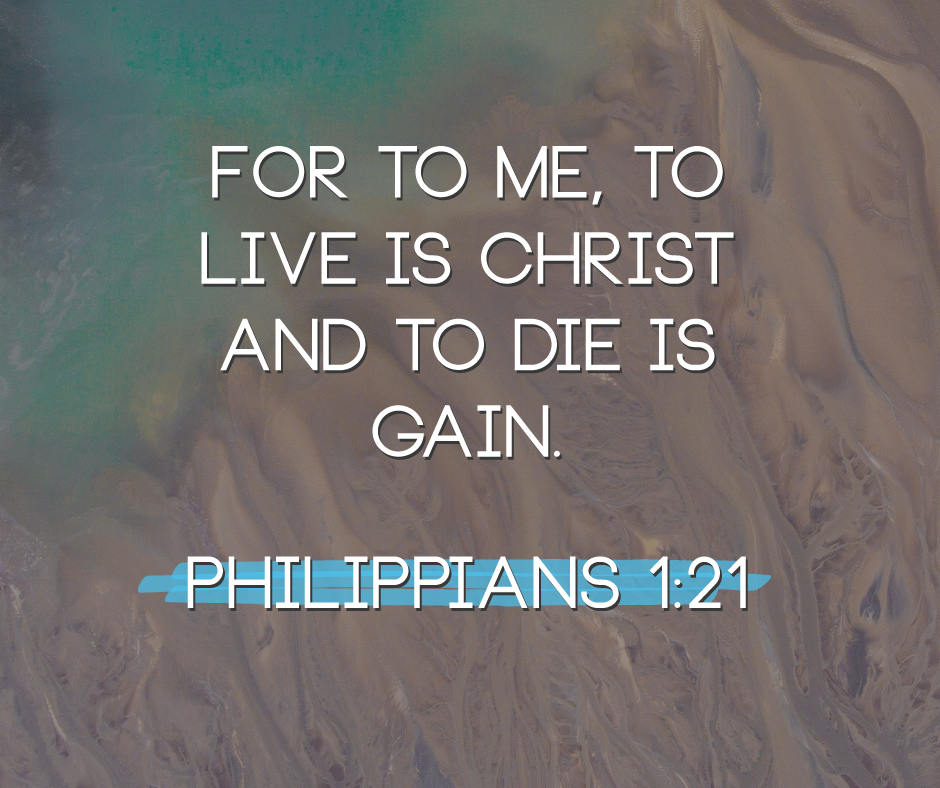 "For to me, to live is Christ and to die is gain." – Philippians 1:21
This verse has been so popular. We can see it anywhere, especially during funerals. We can see it written on many places because this verse is very used and many people know this. It's also a back-up verse for some Christians and many people just use this verse to be written on epitaphs or in a banner to commemorate someone who died. However, do we really know the deep meaning of this? Out of all the people who randomly use this, do we understand what this means? Or we are just equating this verse to death without understanding it?
We all know that Paul was once a Christian persecutor and he tends to enjoy persecuting and killing Christians before. However, after God's intervention in his life, he had become one of the key persons of our early churches. He has written so many books in the New Testament and has been preaching the Word of God to so many people. He had become God's great apostle who loved God with all of his heart. So, as Paul was writing all of these letters, he has been relating all of this to his personal experience and feelings.
He has a passionate love for his Savior and clearly understood the meaning of Christ's salvation and how much Christ paid for his salvation. Paul's ultimate desire was to magnify his God and to exalt His name above all names. His greater joy is to spread the Gospel and bring as many souls as he can to the saving faith of Jesus Christ. Whether he was in great suffering, in prison or any unfortunate situation, he still felt joy in the midst of it. He was at peace during all of these times and still found himself rejoicing in his sufferings.
Paul then wrote this verse to fully convey to the people in Philippi that even if he was suffering and in prison, he was still at peace and in joy. He clearly understood that his life is already worth it for he is living in Christ. It is no longer he who lives but it is Christ who lives in him. His night of suffering was God's appointment to turn it into his mornings of joy. Paul has been so sure of his salvation that he confidently claims that whether he dies or he lives, Christ is his. He understood that death is something he should not be afraid of but to see as a transitional door for him to be united with his Savior in heaven. Therefore, Paul practically proclaimed that as he was still living, he was living for Christ and as soon as he will die it is still a gain for him for he will be with Christ at last. Finishing the race is not a sad thing but a gain.
How marvelous it is for Paul to be able to confidently say that he has Christ whether he lives or he dies. He confidently claimed that whether he dies or he lives, he knows that his salvation is secured. This is why we should understand this verse completely. We have to know that this is used in funerals to remind people that death is something we should not be afraid of but instead, we should see it as an opening door for our unification with Christ. As we live our lives for Christ, we will then continue to live with Him in heaven. However, the question is, when we are already convinced that death is a gain, how can we be so sure if we are truly living our lives as alive people in Christ?
We have to understand also that this verse goes two ways. We cannot fully appreciate death as our advantage and gain if we do not first understand how important it is for us to be living in Christ. We have to fully grasp the reason why death will be our door instead of our doomed. Once we forget the reason behind it, death will really become our doom. We have to remember that death in this world will just open two doors after it, either for another unending suffering or an unending rejoicing with God in heaven.
Therefore, as Christians, we should be like Paul who fully grasp the full understanding of Christ's salvation. We should be like him who can confidently say that whether we live or we die, we are of Christ and we are saved. We can confidently say that we are saved by grace through faith in the Lord and Savior Jesus Christ. Also, as people who are following Christ we must not only share the same confidence with Paul but we must also share the same desire with him— the desire to preach Christ and bring as many lost souls as we can into Him.
Let us all live in Christ and confidently say that we can be with Him the moment that we will die from this earth. Let us not fear death for this will be the door for our eternal joy with Christ. Let us boldly spread the Gospel and offer our lives in the service of God. May we always remember the meaning of this verse and not just blatantly dismiss this as a "funeral verse" but instead, an encouraging verse for us to remember that we have a home in heaven, waiting for us. Indeed, to live is Christ and dying is a gain.
---
For more daily reflection, verse and encouragement, you may follow us. You can also like, follow and visit us on: