Daily Bread
Death – 2 Corinthians 1:9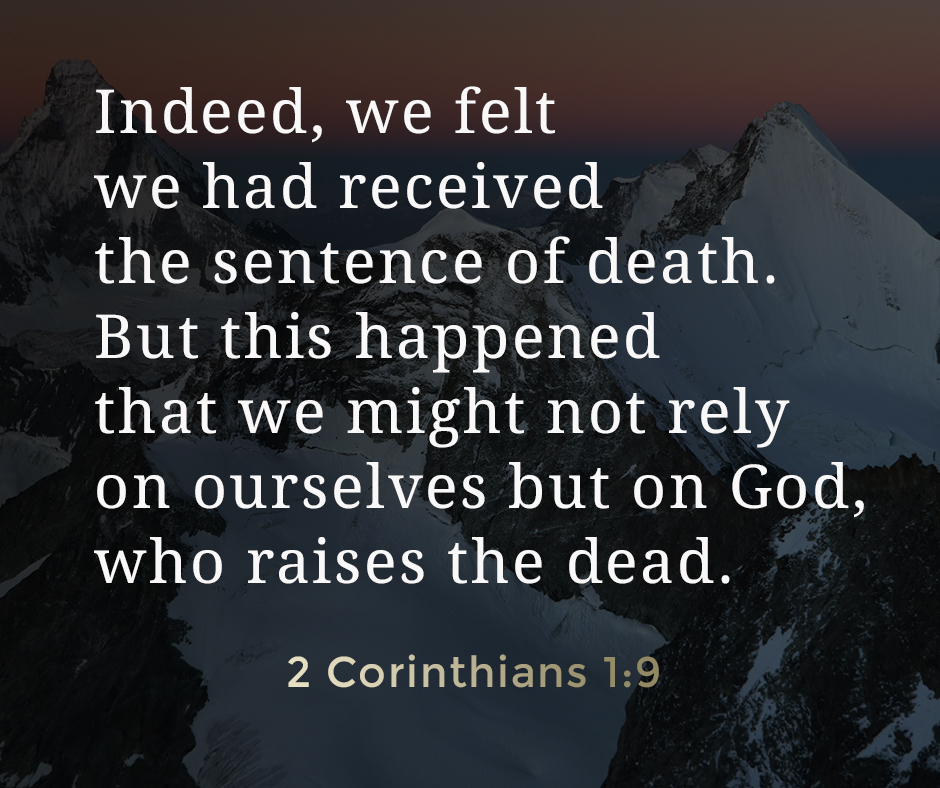 "Indeed, we felt we had received the sentence of death. But this happened that we might not rely on ourselves but on God, who raises the dead." – 2 Corinthians 1:9
There are really times in our lives that we feel like death is so near. We just feel the chill feeling in our bones, the silence that it holds and that anxiety it brings. Death is really something that can make us humans panic, scared and even do things just to escape it. It really brings out the worst in us and even if this is such a scary thing, we can never deny that it will really happen to us. So, as we are starting to talk about death, we will then also remember the death of Christ that we commemorate the other day.
Indeed death is such a scary phenomenon that will really take place in each one of us. Even our verse today talks about how Paul and his companions were put into a situation where they literally felt that they have received the sentence of death. So, we can really see that even Paul, a great Apostle of Christ, felt the chilling air in his spine that only death can bring. However, since Paul knew that Jesus experienced death Himself, he is now comforted with the fact that God who can raise someone from the dead is with them.
Jesus died for all of us and He suffered the most shameful death for all of us. It is indeed such a sad day that Jesus died because of our sins but it is also a blessed day that He chose to die for us so that we will have eternal life. Now, in this silent day, in this dark day when we commemorate the day after Jesus died, brings a new hope that tomorrow He will surely rise again. Jesus will rise again which brings us hope and future together with Him. Therefore, just like Paul and his companions, we may be put into a situation where death is almost near, we must remember to not rely on ourselves but rely on God.
Most of the time we prepare ourselves for our upcoming deaths. Even other people have their lawyer write their last willing testament so when they're gone, people will know what to do with the things they left behind. However, we have to remember that we don't know when we will die and many times we are put into situations where we really feel that we are dying but sometimes, it is God's way to remind us that we are ought to rely on Him, not on ourselves.
Jesus Christ did not just die for us to feel secured and for us not to fear death anymore, but it is also to show us that we need Him and that we can never rely on ourselves. We need God at all times, we need a Savior and that's why Jesus died for us. He is dead but surely, we now know that He will rise again, declaring His victory over death. Now, we don't have to fear death anymore and now we know that God raises the dead. He is powerful, He is loving, He is gracious, He is omnipotent! Let us rely on Him, not on ourselves.
May Paul and his companions be our example on how much we can rely on God. Even in the moment that death is almost there, we must remind ourselves that God can raise the dead, that God rose from the dead so He will raise us from the dead too and be with Him forevermore through Jesus Christ our Lord and Savior. Amen!
---
For more daily reflection, verse and encouragement, you may follow us. You can also like, follow and visit us on: