Daily Bread
Christ Came, Died, and Rose Again According to the Scriptures – 1 Corinthians 15:3-4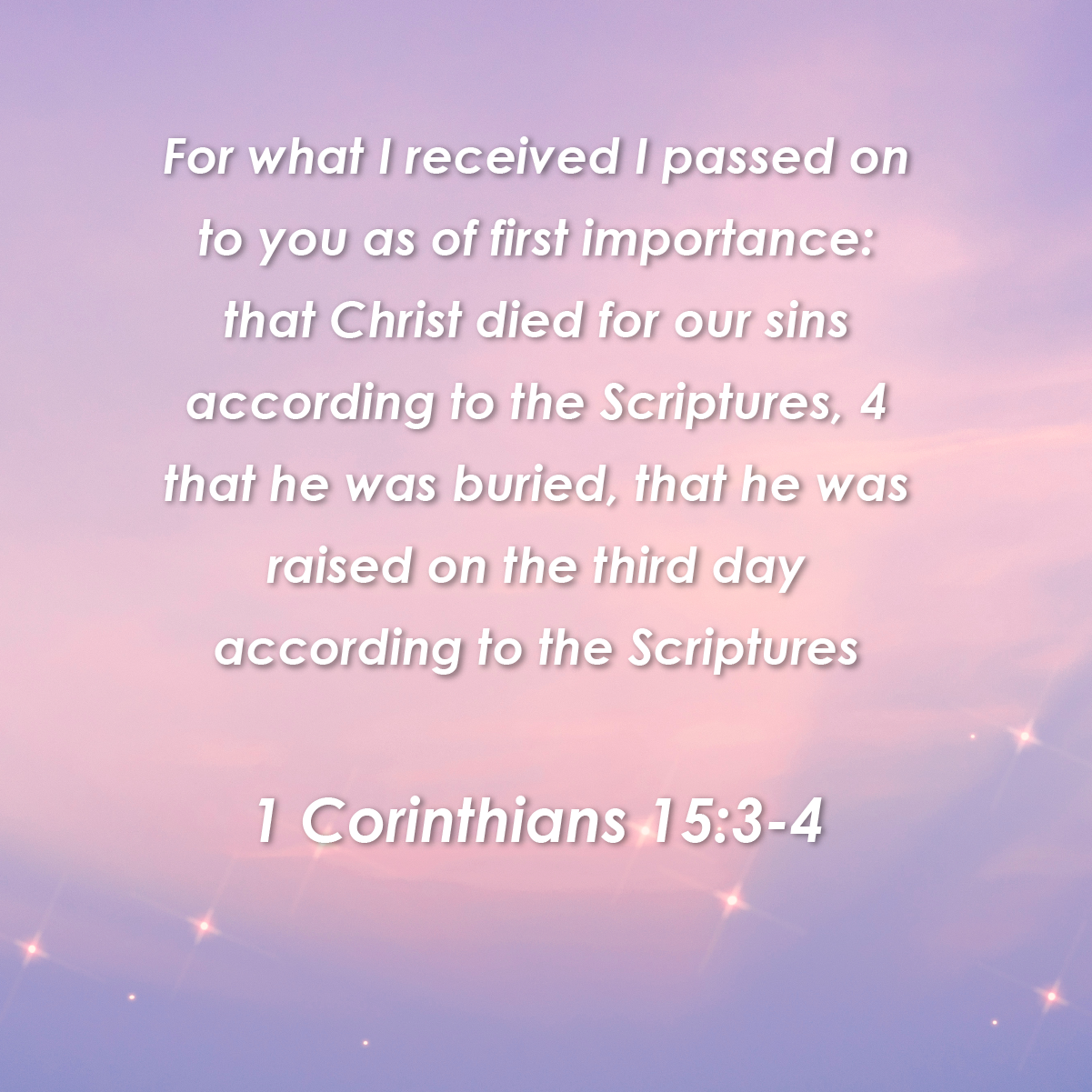 "For what I received I passed on to you as of first importance: that Christ died for our sins according to the Scriptures, that he was buried, that he was raised on the third day according to the Scriptures" – 1 Corinthians 15:3-4
There are many ways that God has revealed Himself to us. We are just hard-headed and ignorant to always reject and deny Him. For a fact, we already know deep inside us that He lives and that He is the only God who made the heavens and the earth and has engineered our salvation. Many people denied His existence, but when it comes to deep inside or through nature, they can never deny that indeed there is a supreme being who is looking out for us and who made us. Now, we must understand that indeed our God lives and He is true. He has revealed Himself to us through nature and through His Word. 
So, as we know, God revealed Himself and His plan for our salvation through His Word. Our verse today is a letter of Paul to the Corinthians to remind that Christ died for our sins, that He was buried and He was raised from the dead according to the Scriptures. Paul carefully noted that he is passing this knowledge and wisdom that was told and taught to him by the disciples before him. Clearly this just means that according to the Word of God, the message of the Gospel remains the same and true. Even until now, we know that the heart of the Gospel is Christ's coming here in the world, death and His resurrection. 
Now, we know this truth and have been accepting this truth, since we knew it by heart. However, we have to remember that the coming of Christ here in the world is indeed for us, to die on the cross for us, we also have to understand that His resurrection is also needed. Most of the time, we do not give importance to His resurrection. What marvels us the most is His death— that He died in our stead. Yet we need to understand that His death and His victory over sin and death would be a victory if He would rise again, and so He did. So, let us always remember to acknowledge and give importance to the resurrection of Christ. It is not just His death, but also His victory over sin when He rose again. 
Therefore, as Christians, like Paul we must also share this truth to others and with the generation after us that Christ died for our sins and He rose up again declaring His victory according to the Scriptures. May we always base our knowledge and wisdom to the Word of God that through it, God has revealed Himself to us. Let us always remember that the Word of God will stand and that His Word is true even to the test of time. The Scriptures are literally the Word of God and coming from His mouth. May we don't doubt this and believe this with all our hearts.
---
For more daily reflection, verse, and encouragement, you may follow us. You can also like, follow and visit us on:

Facebook: 

https://www.facebook.com/yd153

Twitter: @YD153

Instagram: @youngdisciples2020

Tumblr: youngdisciples

Pinterest: Young Disciples International