Daily Bread
Chosen, Holy and Dearly Loved – Colossians 3:12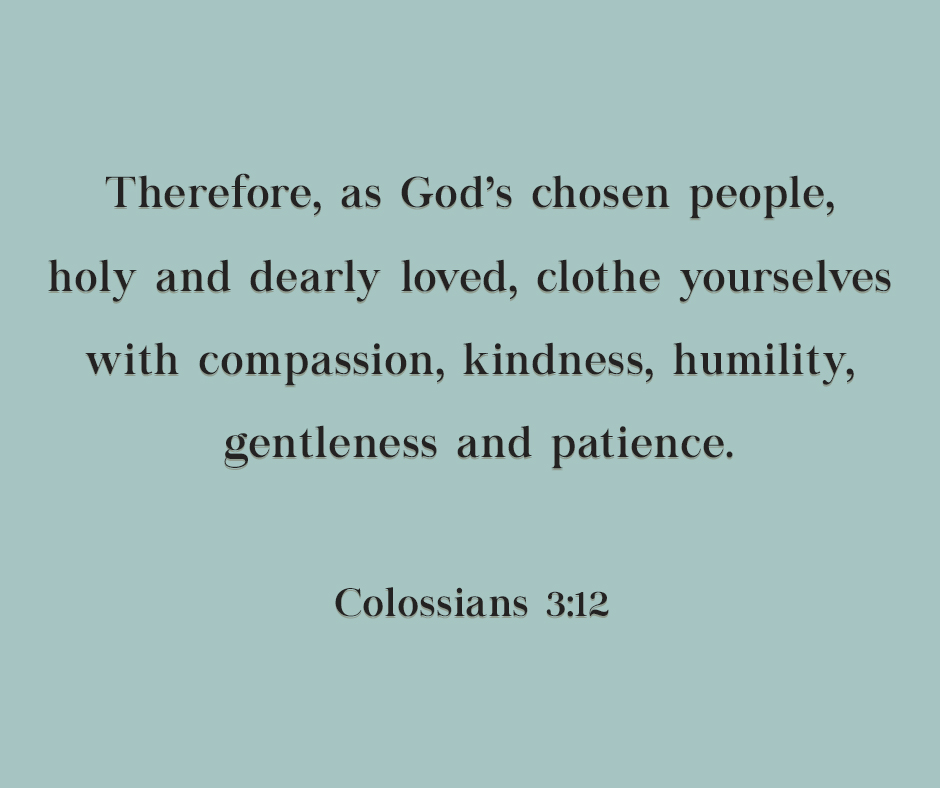 "Therefore, as God's chosen people, holy and dearly loved, clothe yourselves with compassion, kindness, humility, gentleness and patience." – Colossians 3:12
Believers of Christ often have the wrong mindset about the salvation offered by Christ. We thought that we are given new self and have been set apart only. However, we have to understand that we are not only renewed and restored in the holy family of God but we also died with Christ on the cross. Think about it, if we only continue to think that we are renewed and restored only the moment Christ died on the cross, we won't be able to understand that our old self has already died with Him.
Now, as we start this new month, we should always remember that we were not only renewed and restored but we also died with Christ. Our old self died with Him on the cross. He has crucified our sinful and old nature together with Him so that He will be able to give us a new self that is desiring what glorifies God and that is walking in the light with Him. So, as we already understand that fact, our verse today wants to teach us something that is very nice to start this month.
Paul mentioned in there three qualities of a Christian. First, he called us God's chosen people. We are chosen ones because Christ is our Lord and Savior. When before, the chosen race was Israel, now, the chosen people are those people who received Christ as their Lord and Savior. God chooses us to be part of His holy family. Again, we can never be part of God's holy family if we are only renewed and restored. So, our old self has to die with Christ and be born again with the right spirit that is in accordance to the glory of God.
Second, Paul called us holy which means set-apart. Now that we are part of God's holy family, we are now set apart for His purpose. God has set us apart, instead of us dwelling in darkness. He has set us apart and put us into His light. After all, we are part of His family already and our old self— our old and sinful self has already died with Christ. So, as a new creation, we are made holy.
Third, we are beloved or dearly loved by God. We were still loved when we were still sinners because Jesus Christ even died for us but now that we are saved and walking in-sync with Christ, we are now beloved. We are set-apart, dearly loved and part of God's family.
Thus, if we are part of God's holy family, holy and dearly loved, meaning we will be disciplined and ought to show compassion, kindness, humility, gentleness and patience towards others. Therefore, we should be reminded that as Christians, we should be compassionate to others. We have to put ourselves in their shoes, sympathize and empathize with them. However, we must also remember that compassion is different from compromise. So, we must watch out not to overly show compassion to the point of compromising what God intends us to do.
We are ought to show kindness, not just being good to others but also with integrity. There is really nothing wrong with being good to others and to display integrity in all aspects. Then, we are ought to live with humility— a life that is always acknowledging that we are not on our own and that we can never achieve anything on our own. We have to live our lives acknowledging the supremacy of God. He has to be the Lord of our lives and that humility means that everyday, we acknowledge that we are in need of a Savior. Being saved does not mean we will live our lives with the knowledge and pride that we are saved. Instead, the true meaning of our redemption is to live our lives always acknowledging that everyday we need Christ as our Lord and Savior— that is humility.
Furthermore, in this harsh world, we ought to be gentle. We are not only called to be kind but also gentle. Since we are compassionate but we don't compromise, then we have to be gentle in everything. We rebuke with gentleness and love. Christians have to correct each other with gentleness and we are ought to teach with gentleness. In this world full of harsh words and people, we are called to be an example in showing gentleness.
Lastly, we are called to be patient. Christians should know the importance of patience. Without patience, it will be so hard for us to be compassionate, kind and gentle. For if without patience, means having a big chance of always resorting to anger. Now, that's not what a Christian should be. We should not let anger rule over us. Instead we should let the love of Christ rule over our lives and through that we will then develop patience.
Thus, as Christians who are part of God's family, holy and dearly loved, we are expected to clothe ourselves with all of these virtues. After all, we are just reflecting Christ's character in our lives so that as we do it, they will see Jesus instead of us. In the end, it is still Christ that must increase, not us.
---
For more daily reflection, verse and encouragement, you may follow us. You can also like, follow and visit us on: