Daily Bread
Call For Repentance – Acts 3:19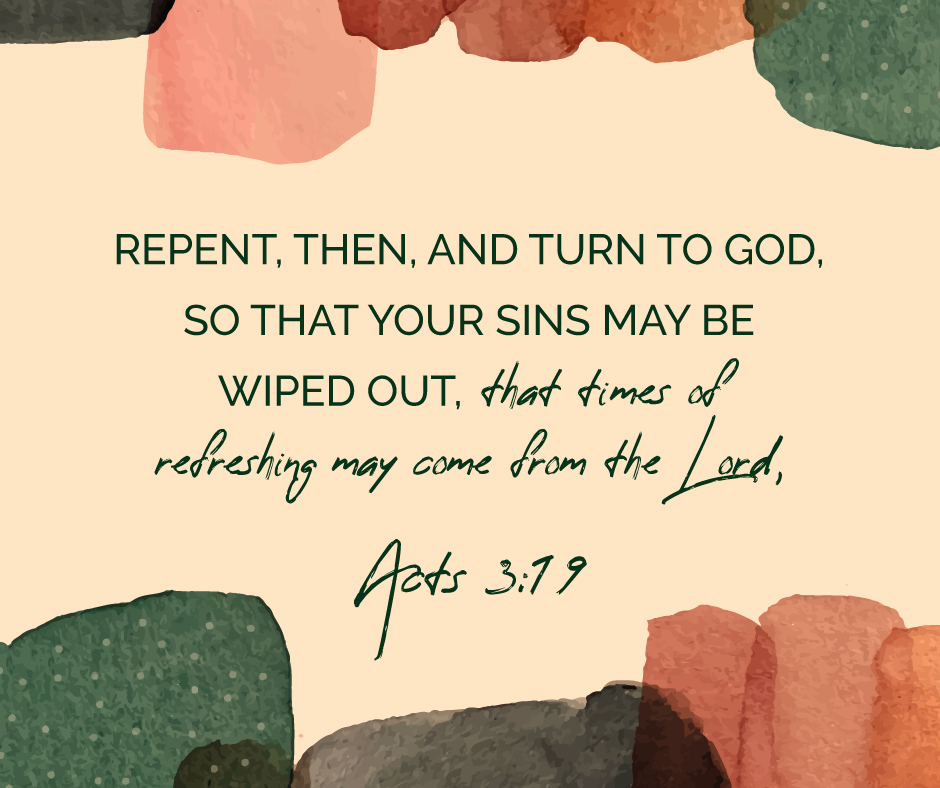 "Repent, then, and turn to God, so that your sins may be wiped out, that times of refreshing may come from the Lord" – Acts 3:19
During the time that the book of Acts was written, people were still the same. Since from the beginning, God has proclaimed that Israel is the chosen nation and Israelites are the chosen people. So, one of Jesus' sermons in His time was that He came only for those lost people of Israel. However, He still helped the woman who was asking His help even if she was not an Israelite which shows that Jesus indeed came to save the whole world.
People claim that only the Israelites will be saved because they are the chosen ones, but no, God came to the world to save everyone. We became part of the chosen ones once we accepted and believed in the death and resurrection of Christ. So, our verse today talks about how the Apostles urged the people that time to repent and then to turn to God. Repentance is not simply just about saying sorry or apologizing about the wrong things we have done.
Repenting means to acknowledge that our way is wrong and that God's way is right. It is acknowledging our mistakes and that we cannot do anything to save ourselves because only God can do that. Repentance is turning away from our evil ways and turning to God in complete submission so that He will rule over our lives and help us battle against sins.
Now, this verse is a reminder for all of us to repent and turn to God. Not just simply say sorry and ask God forgiveness and do it all again, but completely change our perspective in life and completely submitting to God's will. As we repent and turn to God, He promised that our sins will be wiped out and will be counted no more. For God sent His Son to the world to wipe those sins away.
Our sins have left and imprinted us so deep that even doing good can never be our salvation. Our sins are so carved in so deep that we can never run away from it. The ink of sins are too visible that we can never erase it but God found a way and that way is to wipe and cover those inks of sin with the thick blood of Jesus Christ. The only way to cover and to wipe those sins away was the blood of Christ that was shed on the cross for all mankind.
So, the call of repentance is very loud because God wants us to repent, acknowledge, accept Jesus and believe in Him so that we can have our salvation. There is really no other way than that because we really deserve eternal condemnation if it weren't for Christ's sacrifice. As soon as Christ wiped our sins away, we are then promised a time of refreshing which also only comes from the Lord.
In order to completely turn away from the sinful lives we have, we will have to repent, turn to God and He will wipe away our sins and then, we need times of refreshing in which we are born again and we are given a new spirit in us, a spirit that only longs to do what God wants us to do. A spirit that desires to obey God instead of desiring to sin. Therefore, as this season of Christmas, we are reminded of how Jesus came to the world as a baby to save us from our sins, we are also reminded of the urgency of repentance.
We have to always remember that believing in the Lord Jesus Christ will birth a repentant heart in which what we need before we can start living our lives as sacrifices to God. Let us always remember that we should repent and repentance does not mean apologizing but it means turning to God and fully submitting to His will. We all need to repent and to turn away from our sins, in that way, our God who made everything possible will be glorified.