Daily Bread
By Christ's Wounds – Isaiah 53:5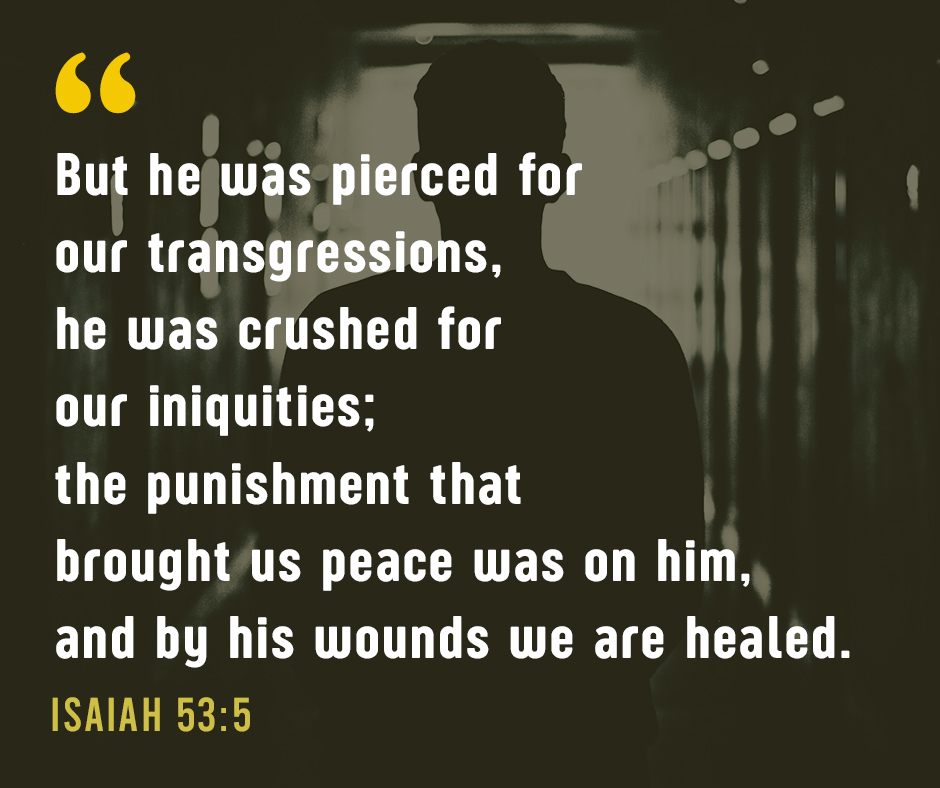 "But he was pierced for our transgressions, he was crushed for our iniquities; the punishment that brought us peace was on him, and by his wounds we are healed." – Isaiah 53:5
It is so hard for us to admit that we are wrong. We have this awful attitude that as long as we can deny that we did something wrong, we will really do it. "Over my dead body!", is a famous statement that we usually hear during fights and arguments. People usually put that statement together with, "I'm not admitting anything." Thus, this just shows how hard-headed we are and full of pride.
Now, in this holy week, we will be reminded about the importance of humility. This season is the season where we need to be reminded that it is our sins that caused Jesus to suffer. The people that time might have looked up to Jesus hanging on the cross with the thought that Jesus deserved it for He failed and He had sinned. As we also remember that time, we might think that Jesus sinned but in fact, Jesus obeyed His Father's will always. He never sinned and He never fell short.
Thus, this leaves us to the understanding that Jesus indeed died for us. He did not die because He sinned, He died because He was our atoning sacrifice. Jesus is the lamb that was slain. Although we never deserve it, still He chose to save us and to die for us. So, given our wrong mindset of how Jesus died, prophet Isaiah finally mentioned that Jesus was pierced because of our transgressions. Isaiah did not say that Jesus suffered because of His transgressions or because of your transgressions, but Isaiah used the word "ours" so that everyone will know that Christ's death was all because of us.
Again, in this Holy Week, we will revisit the time when Jesus was pierced because of our transgressions. He was lashed so many times, His hands and feet were nailed and His head holded the crown of thorns. When we think about it, it could've been us. It could've been us who were pierced in the side, whose feet and hands were nailed, who were lashed and who wore the crown of thorns because that was our punishment. Those things that Jesus suffered were all because of our sins, the payment for all the sins we committed.
However, we are weak and Jesus loves us so much that He took all of those for us. The restoration, the peace that we are now enjoying in the presence of God was bought with a price and that is Jesus. Indeed that we are bought at a price, and that price was not cheap. It took Jesus, the treasure of heaven as a payment. Therefore, by Jesus' wounds, we are healed. Some translations used the word "stripes"— indeed by His stripes, the stripes He got because of the lashed and spear pierced in His body, we are healed. It is even so gore to think that it took the suffering of another person for us to be saved but it is the truth.
It takes the blood of an innocent man to shed for the whole world to be saved and that innocent man is Jesus Christ. There is no one righteous, not even one, so it took Jesus Christ who is God to humble Himself and dwell among us— sinners so we will be saved. Now, it is time for us to be humble also and recognize that our salvation comes from Him only. We have to always remember that because of us Jesus suffered and that we should remember that indeed He loves us so much. It is not because of our merit but it is the work of God because of grace.
Therefore, may we always remember to admit our wrongs and understand that we need a Savior. Although we are still at the moment of denial, God remains faithful that He saved us while we are still sinners. So, God really understands us but that does not mean that we will live our lives deaf and blind. We have to see that Jesus died for all of us, He did not die for Him but for us. It was all because of us, we are the reason why He gave up His life. Now, we are healed and our relationship with God is restored because of His wounds. May we always put that in our minds and hearts and remember to go to God. Repent and believe that Jesus died and rose again, for us, for our salvation.
---
For more daily reflection, verse and encouragement, you may follow us. You can also like, follow and visit us on: