Devotional
Bring the Little Children to the Lord – Proverbs 22:6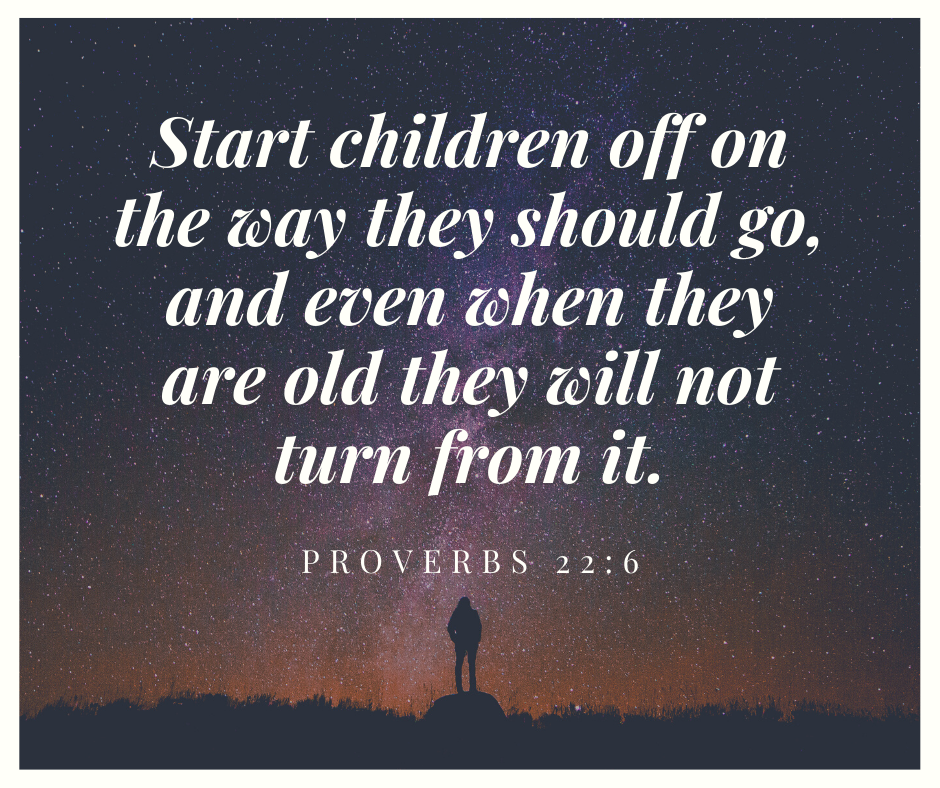 "Start children off on the way they should go, and even when they are old they will not turn from it." – Proverbs 22:6
"Start em' young!"
Many people used this sentence as an excuse for teaching their kids something they want. Even if it is still not time for them to learn it and even if it's not appropriate for them to learn that specific thing. However, many parents or even older siblings teach kids things that they cannot benefit from. Some people will say that smoking in front of their kids is fine, because again, they want to start them young. One of the famous reasons we hear from people is that, "We want him/her to learn life at a young age." Now, what is in life that they need to learn at a young age? That life is unfair? Or life is cruel? Or are the people wicked?
In our verse today, God accepts the thought of starting them young by teaching them to learn life at a young age but God does not wants us to teach them how to smoke, or how to drink or for boys, how to stare at a girl, but God wants us to teach our kids in the way they should go. When we say the way they should go, it means that the way God wants them to go. If we remember the story of Hannah, she promised God that if He blessed her with a child, she will dedicate his life to Him and so she did. Samuel's life was dedicated to the Lord and he really became God's prophet and messenger to the people.
However, this verse is also widely misinterpreted for parents see this as a formula to succeed in parenthood. This does not guarantee us success in parenthood because there are really children who grew up to be rebellious and adventurous to the point that they will leave the path you carve for them. Yet, what God means by this is that while the kids are still young, teach them the love of God because faith comes from hearing and hearing the Word of God. Though they may not understand the real knowledge of the Gospel, it is important for them to already know at a young age how Jesus Christ died to save them from their sins.
Also, this does not guarantee success in parenthood but this will also give us a flexible attitude for them just like how God has given us. We must be patient with them and when the time comes that they will really steer away from the path, we must wait for them to go back and welcome them with opened arms so that even if as young as they can be, they will see the love of Jesus Christ from the people who raised them.
God said that when the child is old, he will not depart from it. What God means by this is that habits are really hard to break and if you start your children with good habits, they will not depart from it. If you start your children to study the Bible every day, they will not depart from it for it will be part of their routine and as they grow up they will still bring that habit and pass it to their kids also. We must understand that God does not mean this as to control our children but to train them into loving Him and into children who love the Lord.
When we remember Jesus' sermon at the mountain when He said that the greatest of the kingdom of heaven are the children, this also shows how God loves our little children. This shows how He values the little children because they are innocent and teachable. They have this little faith in everything and they just boldly place their trust to their parents and to Jesus. So, God wants us to train our child young in the way they should go, and that way is Jesus Christ so that when they are old, they will never forget the love of Christ and how Christ died for them.
This message is not applicable to parents only but for all types of statuses. We are all connected with children, may it be you're a sister, a brother, an aunt, an uncle, grandparents or godparents, you have the responsibility to teach your children in the way the Lord wants them to learn. This is why we have Sunday Schools and other programs at church that will help them grow their faith in Jesus and that will teach them how Jesus died for them. It is our responsibility, as an older generation to bring them into the Lord and help them grow in the Lord.
In connection with this, we must also understand that we were once children and that God was able to train us into what we are now. Even though we knew Jesus at an old age already, we must understand that in God's eyes we are all like children who still longs for His guidance and for Him to teach us where we should need to go. As we train our children, let us also be like children in front of God and ask Him to train us in which way we should go and direct our steps into His path so that we will not steer away from our salvation.
We must also show the same forgiveness to our kids just like how God forgave us through our Lord and Savior Jesus Christ. Let us all be an extension of God's love in our lives towards the life of our children. We must not just teach them how to be successful in life, or how the techniques behind a successful man in this world, but we must teach them how to love Christ and how they must always pray to God everyday. We must teach them how to love like Christ and the importance of knowing the real meaning of His salvation.
Let us indeed start 'em young in the knowledge and wisdom of our Lord and Savior Jesus Christ. Amen
---
For more daily reflection, verse and encouragement, you may follow us. You can also like, follow and visit us on: