Daily Bread
Bless Those Who Curse, Pray for Those Who Persecute – Luke 6:28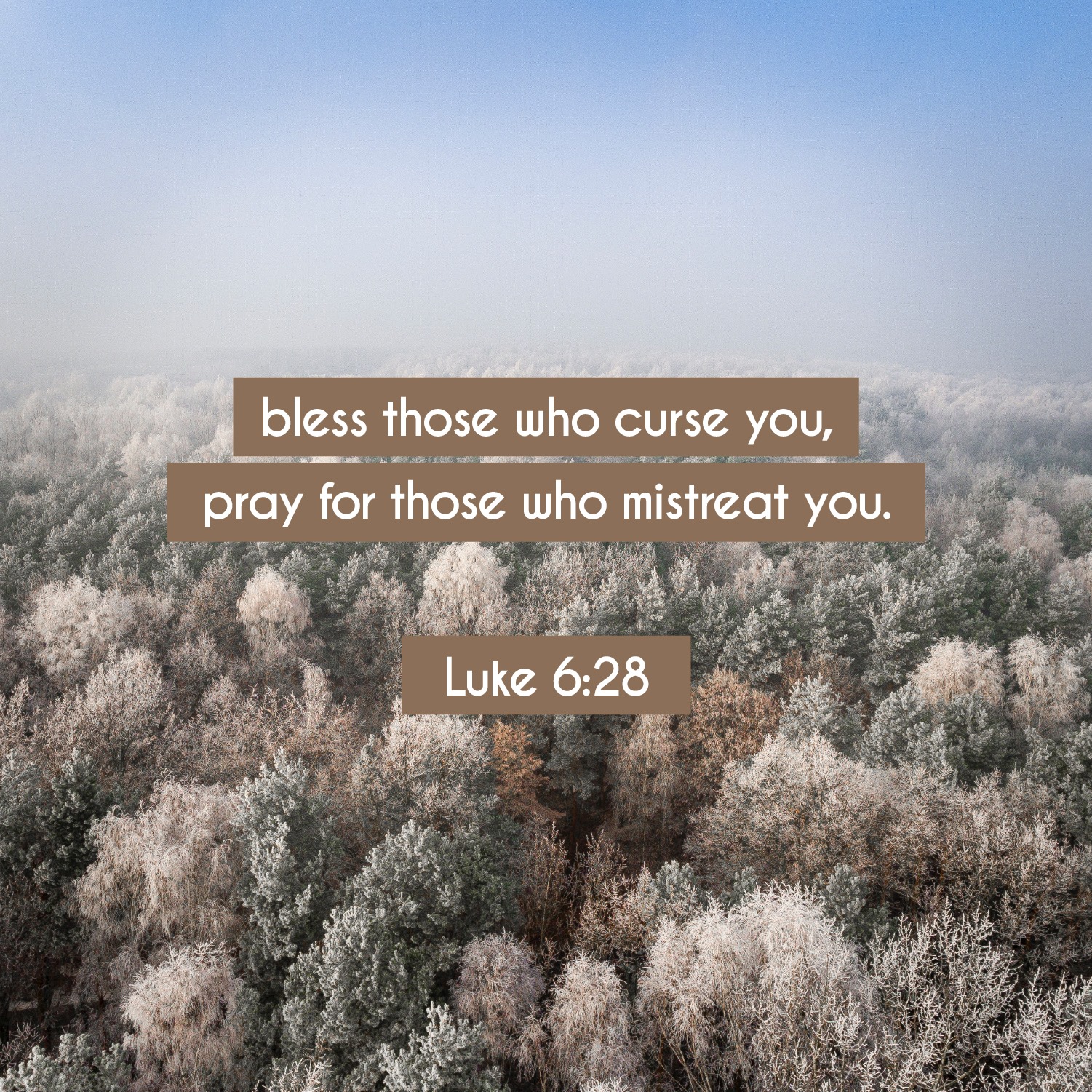 "bless those who curse you, pray for those who mistreat you." – Luke 6:28
Let's take a moment to assess ourselves. Are we loving other people with the love of God? Do you think that you are giving or extending the love of God towards other people? Do you think the love you are showing to others now is the right love? Or are you just selfishly loving other people? You love because you want something in return? Godly love, or reflecting the love of Christ is one of the hardest things to do in Christian life. Actually, it's quite impossible to show it with our own strength alone. It is impossible for us to love without having a selfish motive no matter what. 
Now, our verse today reminds us that we still have to bless those who curse us and pray for those who mistreat us. If this is an impossible act, how come God continues to remind us to do this? We cannot do something impossible! But, we have to remember that there is a reason why God continues to remind us of this commandment, it's because He knows that with human capability, it is impossible for us. However, with His strength, it is not. Thus, we must always put in our minds that instead of thinking of it as something we cannot do, then we must always remember that it is God, we can always do it through His help. 
So, let us not limit our minds to the idea that we cannot do it, but open our minds to accepting the fact that we need Christ to do this. In Christ, or with Christ in us, we can bless those who curse us. Although there are people that we really cannot love because of how they treat us to the point of cursing us, let us still bless them. After all, we bless in Christ's name, and it is Christ who will be blessing them. Let's give it up to the Lord and continue to bless them, although they continue to curse us. We have to remember what God said that if someone throws rocks at us, we must throw them back with bread. Meaning, we really just have to show these people who curse us that even if they do that, we are capable of loving them and we are capable of blessing them. Thus, this manifests and reflects the love of Christ in us. 
Furthermore, it will not be impossible if we have Christ in us to pray for those who mistreat us. As much as we want to curse them too or to have our revenge, let us give it up to the Lord and pray for those people. Let the love of Christ overflow in us so that these people will see the goodness of Christ. After all of this, it will reflect how the love of Christ changed us. People will see and understand that whatever wrong they do to us, we will still choose to love them, just as how Christ chose to love us even if we are all sinners. We also have to remember that we have also cursed Christ and mistreated Him, but still, He blessed us and prayed for us. 
Therefore, we must always put in our mind that with our strength, we really cannot bless those who curse us and pray for those who mistreat us. Yet if we are in Christ, with His strength and imputed righteousness, we can do this. In His perfect strength, we can do the impossible, and with His perfect love, we can extend His love too. He has overflowed us with love, so let us share this with other people so they will also know and experience the overflowing love of Christ through our lives.
---
For more daily reflection, verse, and encouragement, you may follow us. You can also like, follow and visit us on:

Facebook: 

https://www.facebook.com/yd153

Twitter: @YD153

Instagram: @youngdisciples2020

Tumblr: youngdisciples

Pinterest: Young Disciples International