Daily Bread
Be Alert and Be in Sober Mind – 1 Peter 5:8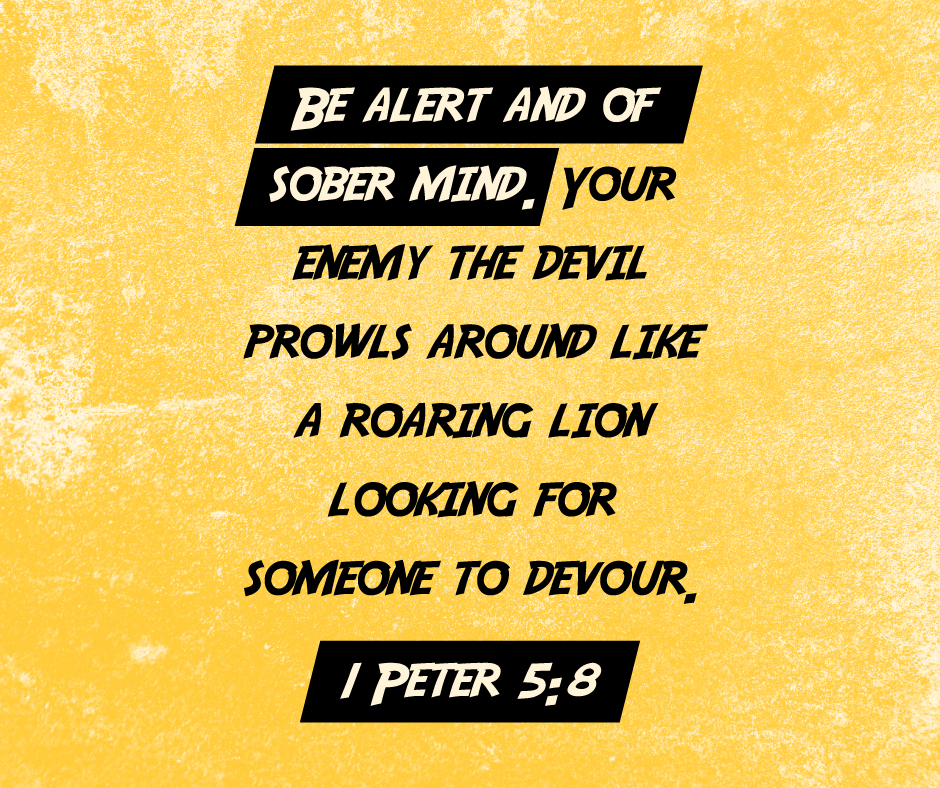 " Be alert and of sober mind. Your enemy the devil prowls around like a roaring lion looking for someone to devour." – 1 Peter 5:8
Yesterday, we talked about suffering for Christ and that our suffering right now is nothing to be compared to the glory that will be revealed in us (Romans 8:18). Now, for our verse today we will then be reminded that as we suffer for Christ, we will undergo persecutions, tribulations and depression, so the verse is reminding us that our fight is not against flesh and blood. In this verse, Peter wrote this to warn us that our suffering does not come only in physical warfare but our spiritual warfare too.
First off, Peter mentioned "be alert and of sober mind" because he knows that we tend to focus on our sufferings and dwell so much on it that we forget our goals. We tend to lose our act everytime we are put into hardships and we are persecuted. We tend to just let our emotions overpower us even if we know that our goal is to be strong in the Lord. However, this is not bad too because we are all humans and we really have these tendencies. It is part of our nature.
Yet, part also of our nature is that we learn every time we are reprimanded and be reminded of. So, Peter wrote almost three times about this. We should really be alert and of sober mind because if we are not alert, we would be defeated easily. Our enemy knows us too well and he knows our characteristics. He knows that we are easily distracted so he will really do everything to distract us so that he can destroy our faith in God little by little and we cannot even notice it.
A sober mind is such an important thing to understand. Again, we all have our anxieties, worries and depression. Christians or non-Christians suffer these and we tend to dwell on these and lose our focus. It is not a sin to suffer these but again, we must be of sober mind. We need to have the mind that is alert and not divided because our battle is not against flesh and blood. These emotions will be used by our enemy to divide our attention so it is very important that once we are undergoing these, we must hold on to God and cling to Him even more.
Next is that Peter mentioned that our enemy prowls like a roaring lion, waiting for someone to devour. Meaning, he is always waiting. The devil himself is very patient too and he can really wait until we let our guard down. He is very patient that he will really wait until the right time to attack us like a lion who patiently waits for its prey to let its guard down. If we let our guard down, our enemy will devour us. Just like in the story of Peter again, when Jesus told him that Satan wants to sift him like a wheat.
These examples really show that Satan is indeed patiently waiting and that he will really try to take us away and devour us. In fact, he only came to steal, kill and destroy. He wants to steal us away from our faith in God, kill our hope and destroy our relationship with Him. So we must really not become so complacent with our Christian walk because being a Christian doesn't mean that we are always safe from predators and that we can just let our guard down because we are in our comfort zone. Well, this is entirely wrong.
Indeed our God is our strength and our protector. This is why He used Peter to remind us that we shouldn't be complacent and so lax about it. God wants us to be on guard and be alert because He knows what will happen. He wants us to always hold on to Him and is telling us not to let go of Him even for just a second because the second might be the time the enemy will attack.
Therefore, having to reflect on this verse, the best thing to do to prevent our laziness, to prevent complacency, to prevent us from being so lax is to acknowledge that Jesus Christ died for us on the cross to save us and being complacent about our faith is not what God wants us to do. Thus, we must always meditate on the word of God day and night because indeed this is our weapon against the enemy. Just like when he tempted Jesus in the wilderness, Jesus' answers were all from the Scriptures. So, when we are put into this, we will be able to fight against the predator by the Word of God.
What Peter also meant about being alert and being of sober mind is that to always prepare ourselves from the possible attacks. So, in order to prepare ourselves, we must go deeply into the Word of God and let Him strengthen us, renew us everyday, replenish our hope, grow our faith and establish that unshakeable trust inside us. We must always remember to be vigilant and to always seek God's help everytime we need it. Our God is only a prayer away, and even if we still did not speak our prayers, He already knows it.
Therefore, let us not be afraid of the evil that is patiently waiting for us in the shadows, but we must be comforted of the truth that God is also walking with us shielding us from all of the attack from the evil one through His Word. Let us immense deeply into the Word for this is our sword and it is sharper than any double-edged sword. 
---
For more daily reflection, verse and encouragement, you may follow us. You can also like, follow and visit us on: