Daily Bread
Adoption – Galatians 4:4-5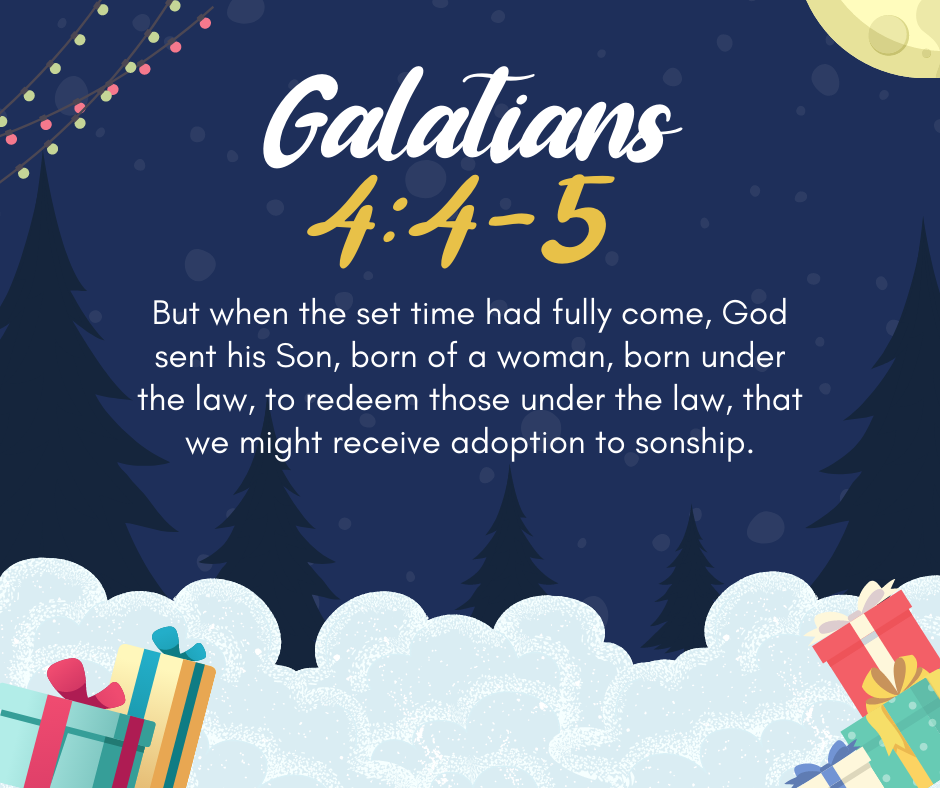 "But when the set time had fully come, God sent his Son, born of a woman, born under the law, to redeem those under the law, that we might receive adoption to sonship." – Galatians 4:4-5
It's Advent, and during Advent, we are reminded of what happened thousands of years ago. We are reminded about how our Savior came into the world and saved us from our sins. Yet, most of the time, we get so caught up with the celebration. We are focused on celebrating the celebration that we forgot who we are celebrating or the reason for the season. We must understand that Christ is the reason for the season. He is the reason, and there's no other reason. 
So, our verse today is a reminder that He is indeed our reason for the season. During the perfect time, God indeed sent His Son for us. We need to understand that our salvation was all under the plans of God. The moment we sin and fall short, God has already planned our salvation. He already thought of the plan to save that through the sacrifice of His Son, we will then be cleansed and forgiven. So, the Lord Jesus Christ has to be born under the law, brought up to this dirty and cruel world, and then die for us who are also under the law so that we will be put under grace. 
Now, we must understand that it is not just merely a celebration, but it is our great salvation. Jesus Christ's coming to the world indeed needs to be celebrated because it was the moment we were given a chance to be redeemed. However, let us not fool ourselves and hide behind the ornaments. We are sinful, and we will remain sinful, but praise be to God for He saved us and He wants us to be in Him. He doesn't want us to suffer, He wants to save us, but the truth remains, we need Christ as our Lord and Savior. 
Therefore, let us always remember that Christ was born under the law to save us who are under law to put us under grace and so that we will be adopted to sonship. We will become the co-heirs of Christ. We are now part of the family of God. We were adopted into His family through Christ. Now, the reason for the season is Christ and our celebration of the salvation we will receive through Him. He came to the world as an innocent child, and He died without sin to carry our sins. Thus, we must never forget all of these and be reminded that Jesus is the reason for the season.
---
For more daily reflection, verse, and encouragement, you may follow us. You can also like, follow and visit us on:

Facebook: 

https://www.facebook.com/yd153

Twitter: @YD153

Instagram: @youngdisciples2020

Tumblr: youngdisciples

Pinterest: Young Disciples International