Devotional
Acknowledge Jesus – 1 John 4:15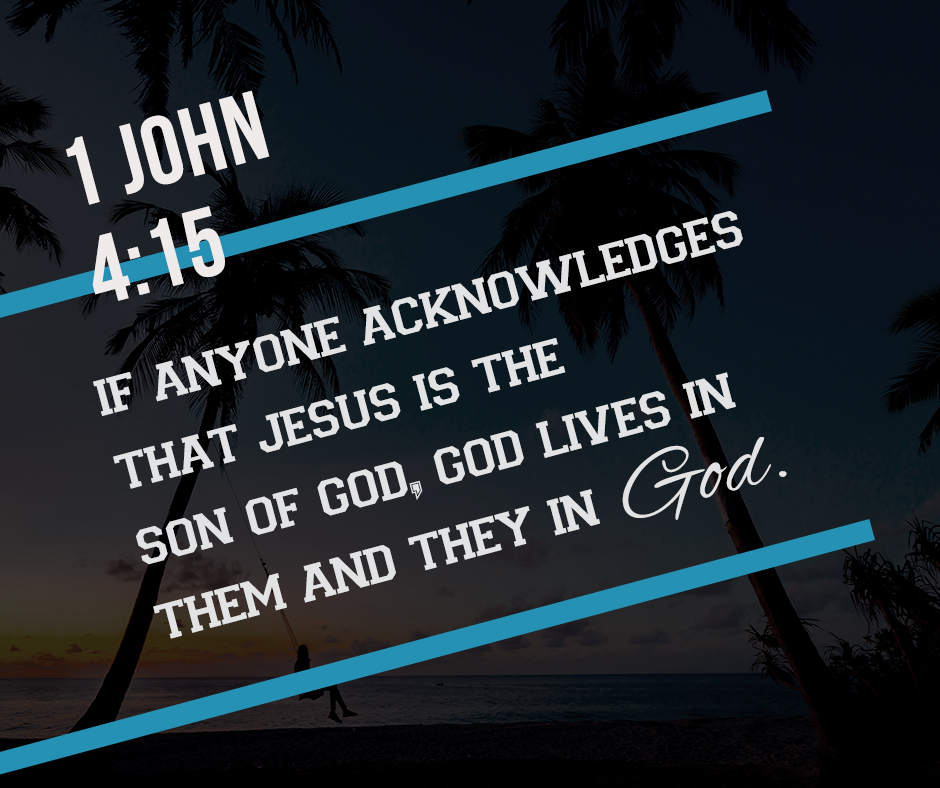 "If anyone acknowledges that Jesus is the Son of God, God lives in them and they in God." – 1 John 4:15
It is very hard on our part to acknowledge something that our human instincts can't prove. As we live in this fallen world, it has been our unwritten principles that we believe if we already had seen it. Although we believe that there is someone super and greater than us to make all of these happenings and the world itself makes sense. However, now that we already know that there is a super being that is greater than us, our next challenge is to know who exactly that super being is. 
We haven't really gathered so much in our minds that even other people sought the wrong gods. Yet we have to understand that God has revealed to us many times that He is the true and only God. He sent His Son called Jesus to the world to save us from our sins. However, Jesus is not lesser God but the Father, the Son, and the Spirit are one. Thus, our principle that is to see is to believe is not even reliable for there are people who have seen Christ during His time but still did not believe. 
Many people saw Him do things that only God can do. He gave life to a dead person, He healed sick people, He provided food for a big amount of people with only just a little food, etc. However, people remained ignorant and did not believe in Him. In fact, the people at that time even supported the government to kill Him. Just how unreliable that principle is, "To see is to believe,"? That's unreliable and a very relative principle. Now, our verse today reminds us to believe in Jesus Christ. 
Although we have not seen Him, we have to know that our minds might not recognize Him but our hearts deep inside recognize Him as one true God. John even particularly cleared it out for us that we must acknowledge Jesus Christ. He is not just a passerby in our lives but He is our God, our Lord, and our Savior. He died on the cross for us all, even while we were still sinners. We have not seen Him but we must recognize Him for everything in His creation proved to us that He is our Savior and our salvation depends on Him.
We must remember to depend on Jesus Christ and we should not reject Him. He has offered us our redemption freely because of His grace through faith in Him and the only thing we have to understand is that we must believe in Him and acknowledge that He is not just our Savior but our Lord. He is now the caretaker of our lives and our life is hidden in Him. Therefore, as John tried his best to make us understand, he then further said that if we acknowledge Christ, God is in us and we are in Him. 
Indeed it is true that believing and accepting Christ is having God inside us. As we become Christians, we accept Him as our Lord and Savior. With that, we are given new life and a new spirit that only longs to obey God. We are ought to submit to Him and always give Him control over our lives so He can guide us into His glory. Therefore, we have God in us and we are in God once we accept and acknowledge Christ because He is our way to our salvation and once we are saved, we are God's new creation who is not bound by sin and death but bound with the love and grace of God.
---
For more daily reflection, verse and encouragement, you may follow us. You can also like, follow and visit us on:
Facebook:  https://www.facebook.com/yd153
Twitter: @YD153
Instagram: @youngdisciples2020
Tumblr: youngdisciples
Pinterest: Young Disciples International