Daily Bread
Access of Grace – Romans 5:2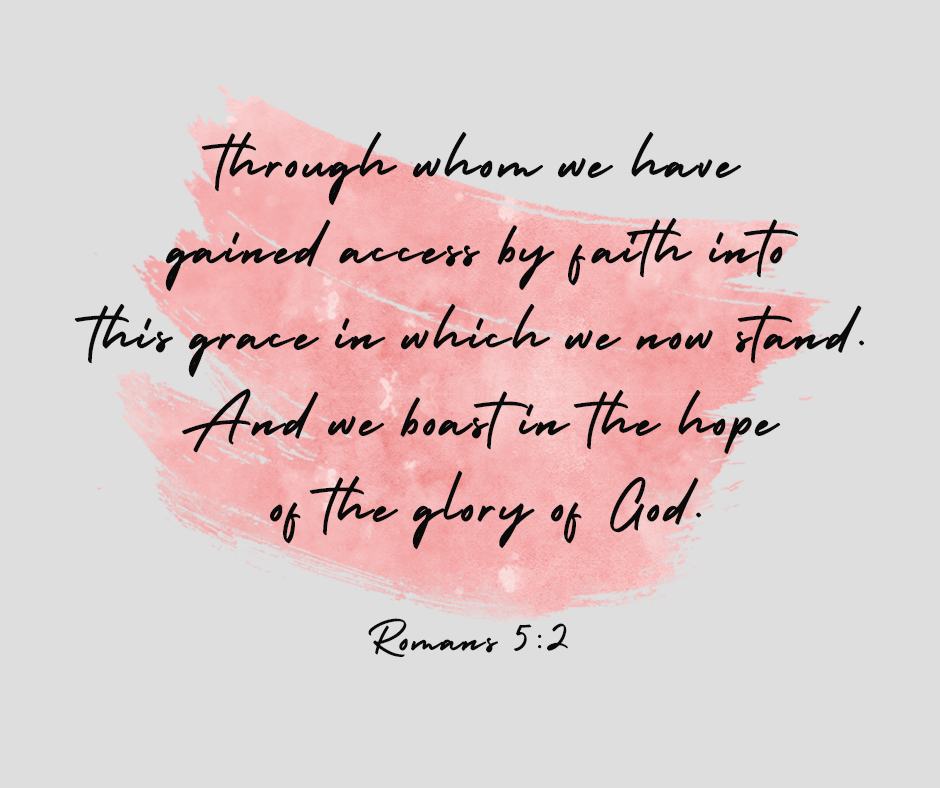 "through whom we have gained access by faith into this grace in which we now stand. And we boast in the hope of the glory of God." – Romans 5:2
Today, we will reflect on a verse that is very connected to the verse before it. However, we already reflected Romans 5:1 before, now we continue to reflect on the second verse as it is very important for us Christians to know about this. In the previous verse, we learned that those who have faith in Christ are justified before God. Paul wrote that we already have peace with God through our Lord Jesus Christ (Romans 5:1).
Now, since we already have made peace with God, we are no longer subject to His wrath. We are already saved, not because of our works but because of His grace (Ephesians 2:8-9). When we remember Ephesians 2:8-9, Paul carefully mentioned there that our salvation is by grace through faith, not our works so that we can't boast. Yet, our verse today talks about how we should boast about our salvation and hope. What does God mean by this?
Well, as we can observe in Ephesians, we can see that Paul carefully wrote "not our works so that no one can boast" and in our verse today, "we can boast in the hope of the Lord." There is a difference with the two statements, in Ephesians 2:9 we can see that Paul does not want us to boast as if the salvation is ours. In the verse today, Paul wants us to boast in the hope of the Lord, which just means that we are ought to boast and tell the world that we are saved and justified by faith through Jesus Christ.
Indeed that our salvation does not come from ourselves but it is a gift of God. This message might be repetitive and most of the time we grumble because why does this message need to be repeated wherein we already know about it? However, it is healthy for us to always be reminded of it because we are easily deceived. Without constant reminder, we will be deceived that our salvation came from our good works not from the work of Christ— which is entirely wrong. We are saved and justified before God by grace through faith in Jesus Christ, and there's no other way than that.
Furthermore, without faith in Christ, we will never be saved. Again, it is only through faith and believing that Jesus came to the world, died and rose again that we can be saved. Also, when we were justified by grace through faith, we did not only receive our salvation but we have gained access to the grace of God in which it is where we stand. Before, because of our sins, the only expected thing we will get is the wrath of God. We are deserving of God's condemnation and angry judgment. After all, we are nothing but sinners who always fall short of the glory of God.
However, since Christ chose to save us, we now have gained access to the unlimited grace of God. Although we do not deserve it, God has shown His grace starting from the moment that He chose to save us and to pay for our debts. Therefore, we should stand on the grace of God with faith in Jesus as we boast in the hope of our Lord. We should understand that it is not our works but the work of Jesus Christ who made our salvation possible.Let us remember that we have the confidence now that we will have eternal life because it is not our works but God's work. Praise God that He did not choose to judge us by our works but by the work of Jesus Christ.
So, as we always put this truth inside our minds, may we also always remember that God's grace is sufficient for all of us. However, once we receive Jesus Christ, we have to remember that we are given new self and that new self has the power to obey God and it only desires the glory of God. So, it doesn't mean that God is a forgiving God, we continue to be unrighteous but because He is forgiving and merciful, we will stop sinning. After all, the salvation of Christ brings transformation in us and will bring us from glory to glory through Him.
---
For more daily reflection, verse and encouragement, you may follow us. You can also like, follow and visit us on: