Daily Bread
Accept One Another – Romans 15:7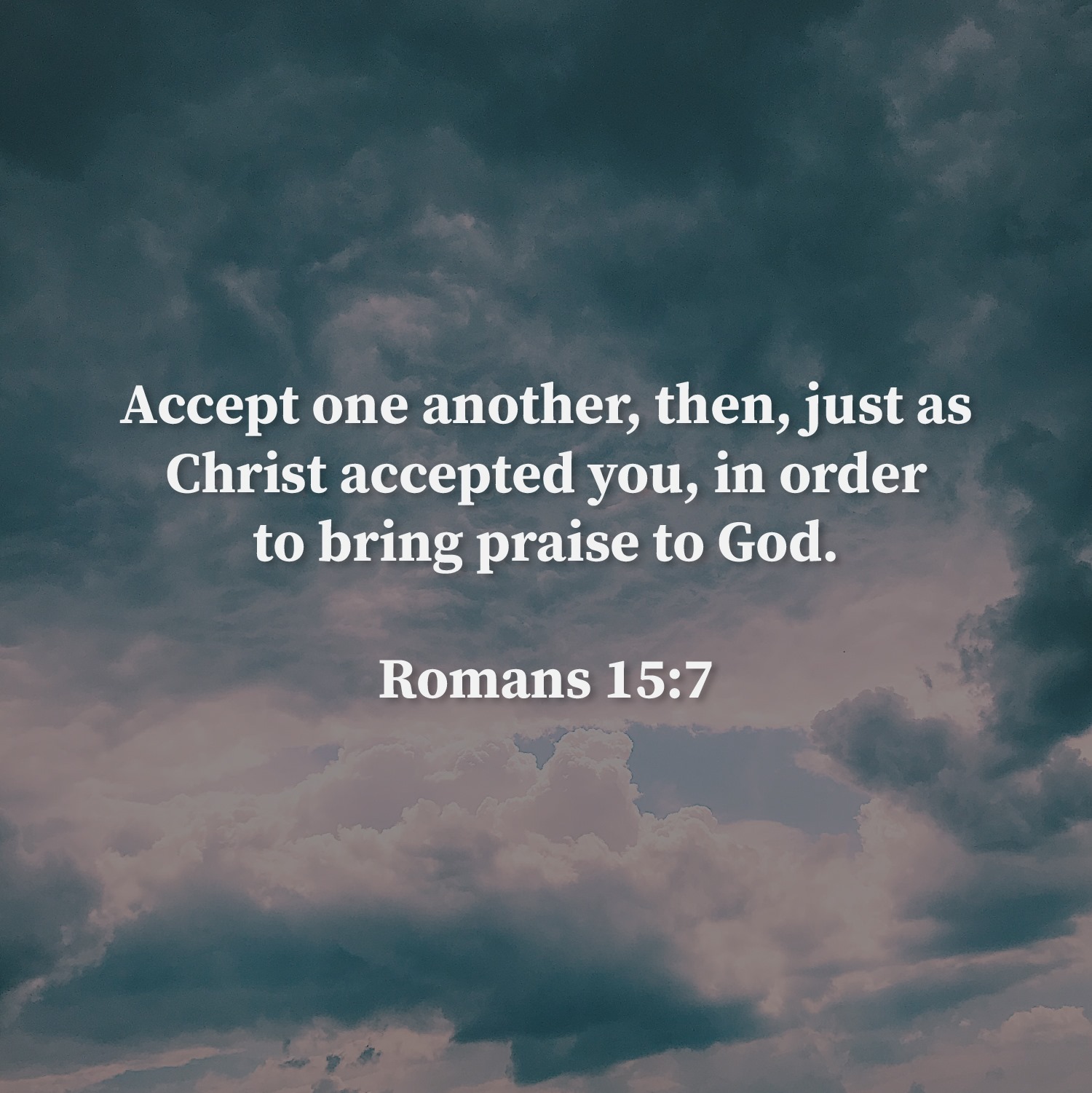 "Accept one another, then, just as Christ accepted you, in order to bring praise to God." – Romans 15:7
Accepting one another must be so easy to do, hypothetically. When we are asked to accept other people no matter what they are, we think it's easy. However, when we are in the process of doing that, we will realize that indeed it is hard. It is so hard to bend our principles, to accept we are wrong, or to just really accept something we don't want to accept. Yet, we have to understand that accepting others is really hard, but most of the time we are also looking at it in the wrong view.  
Our verse today urges us to accept one another just as Christ accepted all of us. In the context of this verse, Paul wrote this prayer to the Romans to remind them to be united in Christ to build up His church. Now, we have to understand that God accepted us no matter how sinful we are and no matter how hard-headed we are. We have to know that our God is love and full of mercy. Yet, as mentioned above, we are looking at it the wrong way. One of the things that make accepting people hard is the mindset we have that we need to bend our principles or our faith just to accept them. 
Indeed, we are called to accept them just as Christ accepted us, but Christ did not bend His attributes, His characteristics just to accept us. Instead, He gave us a choice. It is not forcefully making us accept Him as our Lord and Savior, but it is making us understand that indeed He is right. Thus, we need to understand that compassion is different from compromise. We need to accept one another, love them right by manifesting the love of Christ through our lives, but we are also ought to hold our ground. After all, truly loving someone means rebuking them. 
So, as people who are encouraged to accept one another, we must accept one another in love just as Christ accepted us. We must understand that accepting them means showing them true love and true love means rebuking and nurturing them with the right things. We must not easily condemn people because they are doing something evil or bad, but we must be patient by accepting them and patiently nurturing them so we can bring them to the throne of the grace of God. After all, our goal is to glorify God and bring praise to Him. While doing this, we are bringing Him glory and honor through preaching His love that is abounding in Christ, and by showing other people His love through accepting them first.
---
For more daily reflection, verse, and encouragement, you may follow us. You can also like, follow and visit us on:

Facebook: 

https://www.facebook.com/yd153

Twitter: @YD153

Instagram: @youngdisciples2020

Tumblr: youngdisciples

Pinterest: Young Disciples International