Devotional
Loving Others Right with Christ's Love – 1 John 4:7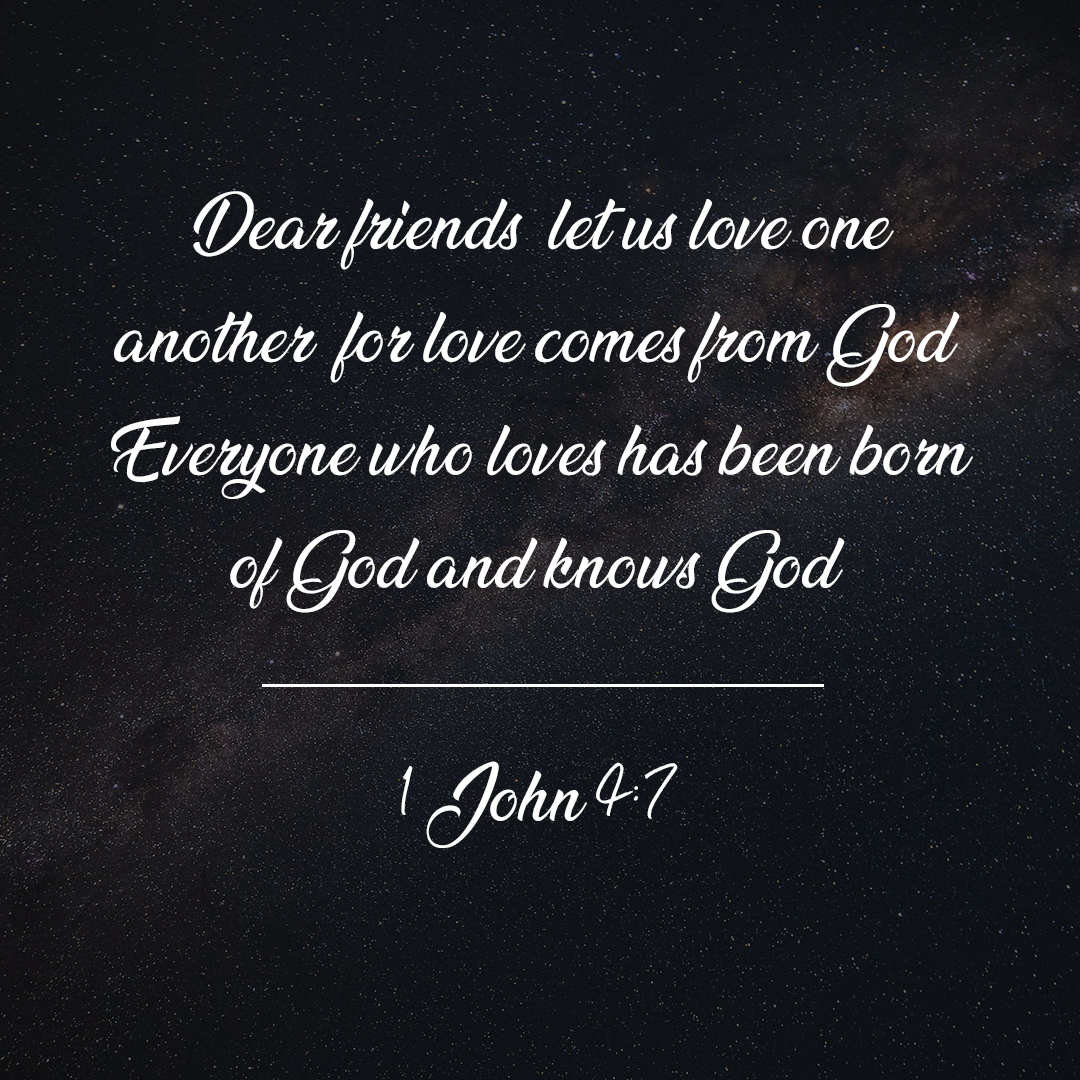 "Dear friends, let us love one another, for love comes from God. Everyone who loves has been born of God and knows God." – 1 John 4:7
Love is such the easiest feeling to show. It is so easy because we can always develop it for anyone. Even for some, people are capable of loving their enemies. Now, the most important thing we have to remember and learn today is what makes love so easy. Although we find loving our enemies or those people who hate us very hard, we can never deny that loving is really part of our nature. It has been so easy because it normally comes out of us.  
Now, as many people know, John is one of the disciples who really talked so much about love. In our verse today, we are encouraged by John to love one another because it comes from God. So, here's our answer, why love is the easiest feeling we can show, it is because it comes from God. It is just the same as how we naturally know that we have a living God. Love is just as real and visible as to our living God. Since love comes from Him, we are called to love one another. 
However, we have to also understand that hate is also as real as love. It may be so easy to love, hating is also equivalent to love. Since sin entered the world, part of it is our ability to hate. From pride comes with sin and with pride we develop a hateful character. Thus, this is the reason why we are always reminded to love one another, for it comes from God and it might be easy, we may be failing to do it. So, we must always be reminded to love one another, just as God loves us. 
John further clarified that everyone who loves is born of God. Now, this is such a very critical part. We really have to understand what God means when He used John to say, "Whoever loves is born of God." Loving is indeed not just a by-product of some random feelings, but it is because God enabled us to have this for He has shown us this first. We can love anyone, but we have to understand that there is the right way to love someone. Although our entire life, we have believed that the way we love is right, but now we must be corrected. The right way to love is to love just as God loves us. Sacrificial, unconditional, unlimited, and forgiving. 
Now, that is what John means when he said that whoever loves is born of God because he wants to clarify that loving right should come from God, thus if we are loving right then we are born of Him. Being born of God means knowing Him, having a relationship with Him, and completely following Him. So, this commandment that John has reminded us of is not just merely saying that we must love one another, but it is a call for us to love one another right. Again, we can only find a way to love others right if we are in God. When we know and show love to one another, then that will show that we are in Him. 
In short, we are called to love one another because it shows that we are born of God and that we know Him. However, the first step of loving one another is to know God, so we can reflect His unconditional love towards others. May we not just take love for granted just because it is such a very easy feeling to show, but we must remember that it may be the easiest feelings to show, but the challenging part of it is knowing if we are showing love that is right or wrong. Therefore, let us be grounded in the love of Christ, follow Him, and manifest His love in our lives through loving one another right. Indeed the best way to witness Christ is to manifest and extend His love with us through others.
---
For more daily reflection, verse, and encouragement, you may follow us. You can also like, follow and visit us on:
Facebook: 

https://www.facebook.com/yd153

Twitter: @YD153

Instagram: @youngdisciples2020

Tumblr: youngdisciples

Pinterest: Young Disciples International