Daily Bread
God is Our Rescuer – 2 Timothy 4:18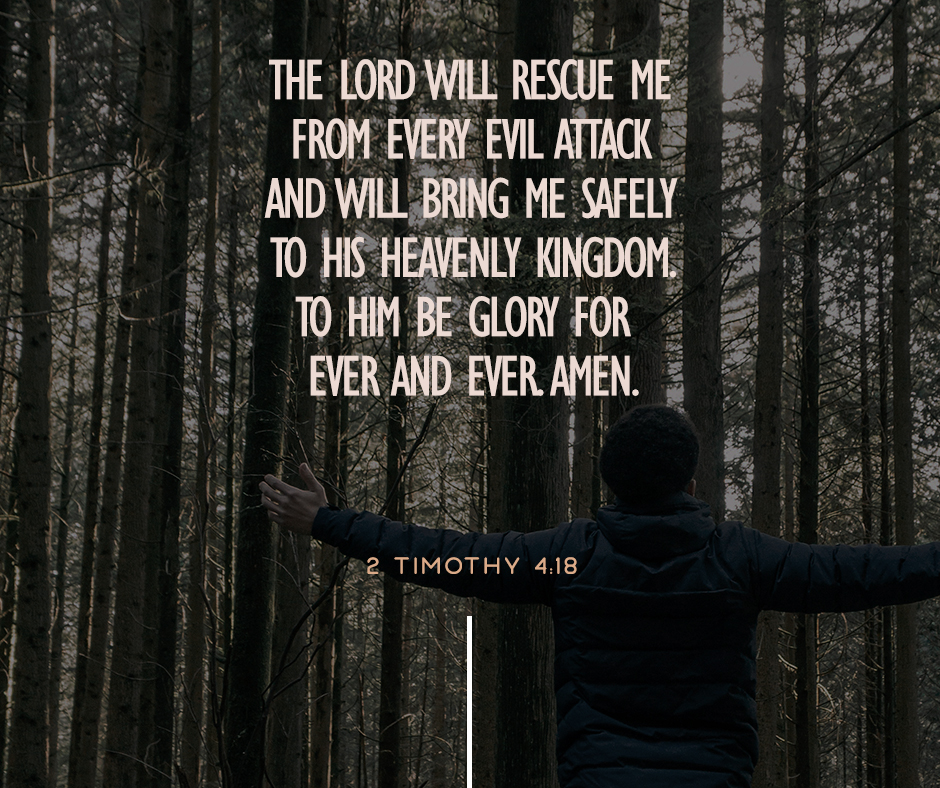 "The Lord will rescue me from every evil attack and will bring me safely to his heavenly kingdom. To him be glory for ever and ever. Amen." – 2 Timothy 4:18
One of the best examples of a changed man in the Bible is Paul. He was really living his life trying to imitate Christ as he walked in his Christian life. Although he was first a Christian persecutor, God indeed worked out His plans for his life that he still became one of the pillars of the first Christian church. Now, our verse today is coming from the letter of Paul to his spiritual son, Timothy. He knew that his life would end soon, so he wanted to remind Timothy through his letter about things that he realized while he was suffering. 
As Timothy's spiritual father, he cares for him. He also knew that one day Timothy will undergo a form of suffering for the Lord, so he reminded him by telling him that the Lord will rescue him and will deliver him safely into His heavenly kingdom. He even proclaimed that to God be all glory and honor and praise, forever and ever. Now, what's the point of setting an example? Why does Paul need to remind Timothy of this? Does he not know about this yet? Of course, Timothy already knows this truth because as Christians, we have this amazing assurance that God will rescue us from anything. 
However, just like us, we most of the time forget about this truth. That's why it is amazing that we get the chance to have good examples to encourage us that whatever we are suffering right now or whatever will be suffering in the future, we are not alone. So, for this purpose, Paul wanted Timothy to know that he has undergone lots of persecution and sufferings too, but the key point of remaining joyful in the presence of God is to know that He is the God who rescues us. 
Although this message was written years ago and for Timothy, the Word of God is without the time and not limited by time. God still used this so that we will also be encouraged by Paul that our trials and sufferings are not forever. It is just temporary suffering that only we can feel here in this fallen world. Once we are united with Christ in the heavenly kingdom, we will be overjoyed and filled with glorious happiness in the presence of God. 
Therefore, we must always remember that our God is indeed awesome. He will not let His people unguarded. He is always here with us and He will always rescue us from the evil one. Just like Paul, he can overcome all of these unfortunate events by trusting God more than he trusts himself and his circumstances. Now, may we also be able to declare that our God will rescue us from the evil one and guide us safely to His heavenly kingdom. May we have that confidence inside us that He will always be there for us by trusting Him more than we trust ourselves and the people in this fallen world.
---
For more daily reflection, verse and encouragement, you may follow us. You can also like, follow and visit us on:
Facebook: 

https://www.facebook.com/yd153

Twitter: @YD153

Instagram: @youngdisciples2020

Tumblr: youngdisciples

Pinterest: Young Disciples International