Daily Bread
Suffering Right Now, Overjoyed in the Future – 1 Peter 4:13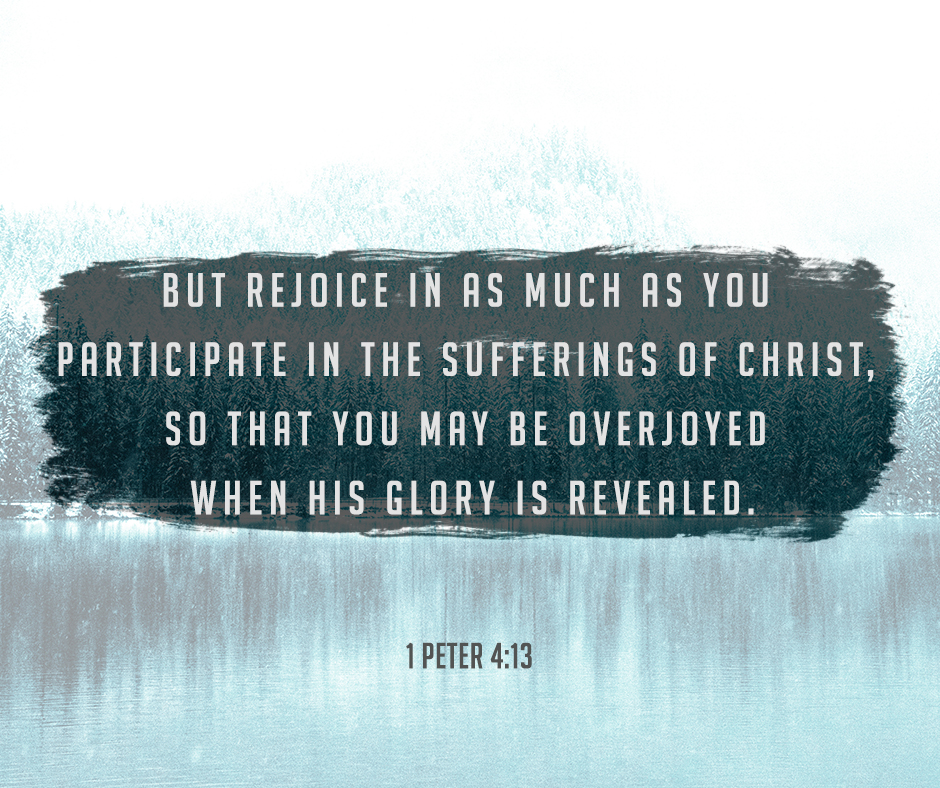 "But rejoice inasmuch as you participate in the sufferings of Christ, so that you may be overjoyed when his glory is revealed." – Peter 4:13
We are all suffering in this fallen world in our own ways. Either we are suffering because we don't know God or we are suffering because we know God. That's why people can ask, "What's the difference between being a Christian and not?" After all, both are suffering. We can really not see any difference between the two. Either way, the bottom point is that we are suffering here in our fallen world. 
However, Peter ushers us into a different mindset and truth. As much as Paul reminded us to rejoice always even if we are suffering, it is indeed hard for us to understand this. So, as we read our verse today coming from the writings of Peter, we now understand the difference between the unbelievers and believers. Although all of us are suffering in this fallen world, at least we know that what we are suffering is for Christ and that there will be the glory that will be revealed to us in the future. 
As Christians, we are suffering for Christ, and amidst suffering, God has given us this hope and we are looking forward to being overjoyed when His glory will be revealed. We Christians are suffering in this world but we have the assurance of salvation and that we will not suffer anymore once we have eternal life. Unlike the unbelievers, they are blinded by the truth. Thus, they are hopeless and they are just suffering because of the sins they are doing and that even after they die, they will continue to suffer. 
Now, we must remember that our eternal life rests only on Christ. We have no other means to receive it but only through Him. Therefore, as we look forward to life without ending in the presence of God, we will feel unexplainable joy. So we must rejoice while we are suffering right now because we know we will be overjoyed in the future. Now we know that even if we are like the unbelievers who are still suffering in this world, at least we are suffering for the sake of Christ, not for the sake of our sins. 
May we always understand that God encourages us to suffer for Christ not because He wants to see us suffering but because we can't help it. We are living in a world that despises Christ, and if we are following Him, we are despised too. Now, the only thing that we can do, instead of dwelling on our sufferings, let us rejoice in it. Let us learn to rejoice even if we are suffering because we are not suffering for anything but we are suffering for Christ. Therefore, whatever we do, let us rejoice always for the sake of Christ. Let us look forward to the joy that is coming which can only be found in Christ.
---
For more daily reflection, verse and encouragement, you may follow us. You can also like, follow and visit us on:
Facebook: 

https://www.facebook.com/yd153

Twitter: @YD153

Instagram: @youngdisciples2020

Tumblr: youngdisciples

Pinterest: Young Disciples International