Daily Bread
The Thief Steals, Kills and Destroys – John 10:10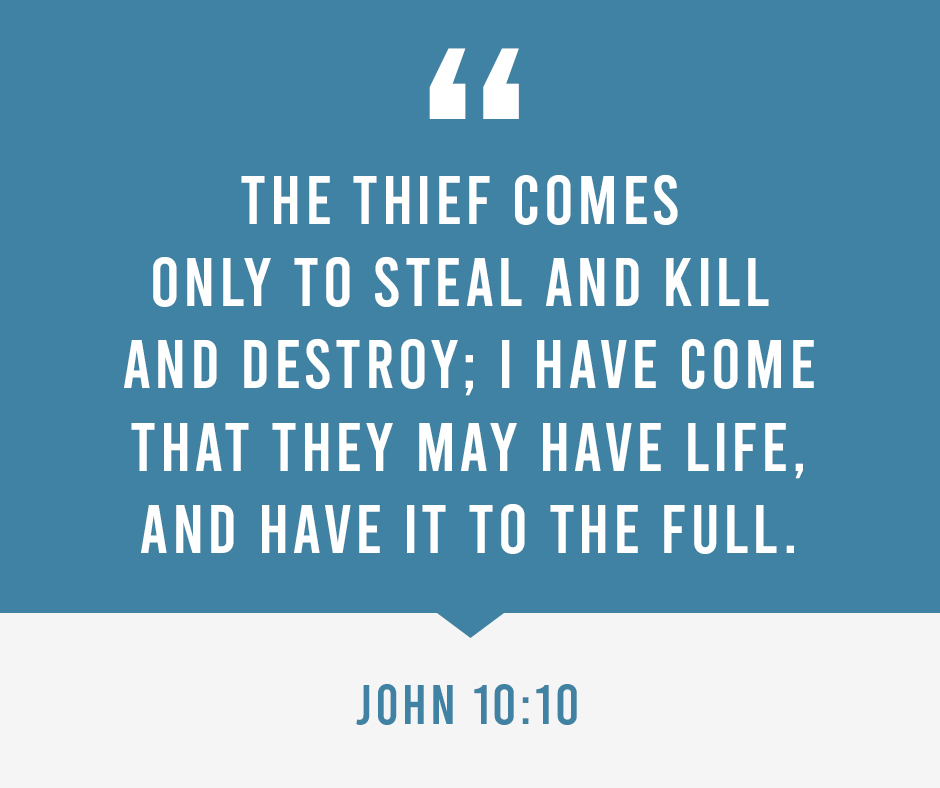 "The thief comes only to steal and kill and destroy; I have come that they may have life, and have it to the full." – John 10:10
Sometimes, Jesus' parables are most likely hard to understand. His analogies are very hard to grasp because sometimes, it is very hard for us to open up. That is why we need the Holy Spirit to minister to us and to help us understand His Word. However, our verse today is so easy for we can already understand the analogies Jesus used in the story. Since last time, we already talked about Jesus being the Good Shepherd who laid down His life for the sheep.
Jesus also used the analogy that He is the one narrow door that sheep will use to enter and out of the sheep pen. Now, Jesus also mentioned that thieves only come to steal, kill and destroy. Our verse today was used so many times in our reflections before because we have already put it into an analogy that the thief is our enemy. However, there is also a different side of it, when Jesus said this analogy, He was referring to the hypocrites and false teachers.
During the time of Jesus, He was referring to the teachers. He was referring to the Jewish leaders who sought to steal Christ's title as the Son of God. Jesus was referring to the people who will call Him bluff just because they are under tradition-bound and hypocrites. They were trying to snatch the Israel out of the hands of Jesus. Indeed that they only came to steal, kill and destroy. They will steal the people's attention and faith in Jesus, kill the connection that they find in Jesus and completely destroy their connection with Jesus. That is why Jesus told the people of this analogy to make the people understand the truth in this world.
It is Jesus that can save us because He is the Good Shepherd who laid down His life for His sheep, and we are His sheep. We need Jesus, we don't need the traditions and religious acts to be saved because we are saved by grace through faith in Jesus. Indeed that only through Jesus the narrow gate, we sheeps, can enter and go out from it. Therefore, our salvation does not come from all of those religious teachings but from Jesus Christ alone. Now, since we all know that it was the false teachers, the hypocrites and tradition-bounded people, Jesus was pointing out this analogy, we can also know to which does this apply.
We all know that our true enemy is the devil who lurks in the corner, waiting for its prey. Although Jesus directly means the false teachers, we know that these false teachers do not belong to Christ. Thus, it belongs to the enemy, meaning that they are doing what their master is asking them to do. So, having to steal, kill and destroy the lost sheep of Israel is part of the master plan of the enemy. He is just using other people for his gain. However, Jesus knows this, that is why He wants to remind us that the enemy will try to take us away from Him.
The enemy will always want to steal us from Him, kill our faith in Him and will eventually destroy our connection with Him. Although the enemy can do this, we have to take heart because no one can steal us from the hands of the Father. We are safe, we are secured by His love through Jesus Christ our Lord and Savior. However, it is true that we will not be stolen in the hands of the Father but we can walk away from Him. Therefore, let us be mindful and always assess ourselves. So that we will not blindly walk away from God and let the enemy steal us. Let us make sure that we are living our lives in complete sync with Christ.
May we always remember that the enemy may try to steal, kill and destroy us, but we are grounded with love in Christ, only through Christ. He is the glue that completely attaches us to the hands of the Father but without Christ, it will be very easy for us to be stolen away. It is not because God will let it, but because we are not even attached to Him, that is why we can be stolen and we let the enemy steal us. However, with Christ, we can never be stolen because it is Him that lives in us already, not us.
---
For more daily reflection, verse and encouragement, you may follow us. You can also like, follow and visit us on: