Daily Bread
Sacrifices – 1 John 3:16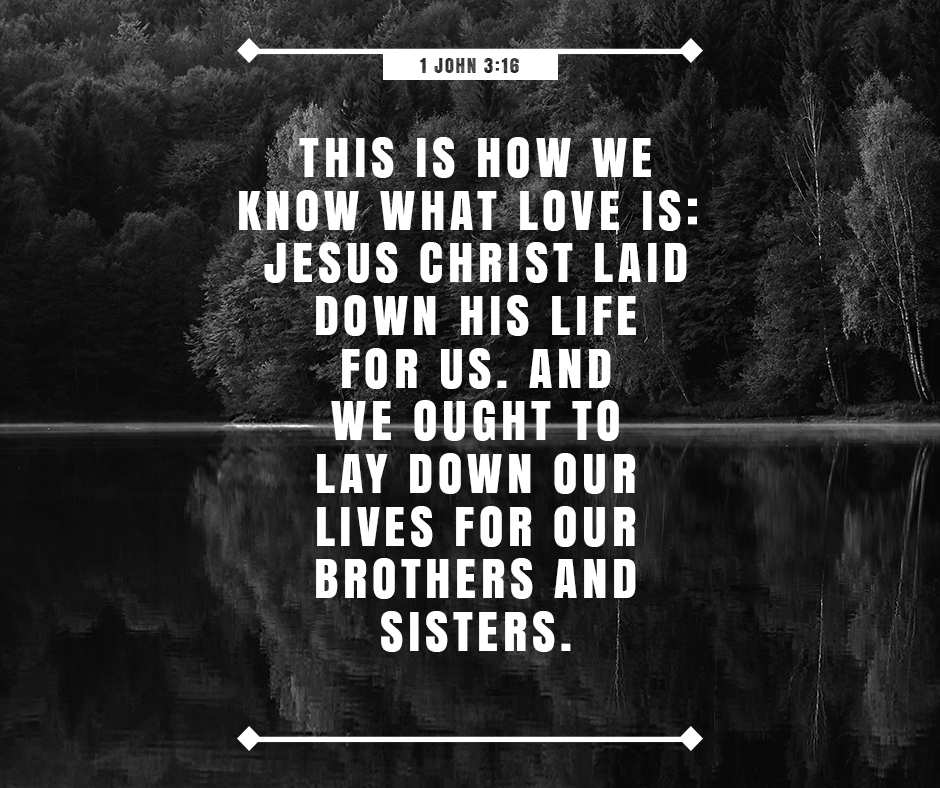 "This is how we know what love is: Jesus Christ laid down his life for us. And we ought to lay down our lives for our brothers and sisters." – 1 John 3:16
Sacrificing something has been so hard on our part as human beings grounded with so many needs. We don't like to sacrifice anything, not even our time, our plans, our money and especially our lives. Sacrificing is not even part of our dictionary and as much as possible, we won't sacrifice anything. Either we compromise or we just let it be, as long as we don't sacrifice anything, we are all good.
Now, we just celebrated Easter Sunday which reminds us about the sacrifice of Jesus and His resurrection. We can then ask ourselves, is there anyone else that would sacrifice his or her life for me? Is there someone else willing to die and save me? We all know that there is no one who would do that. Again, we don't like to sacrifice, we cannot even sacrifice our time, how much more our lives? Thus, there is really no one who will die for us aside from Jesus Christ.
So, the act of Jesus— His passion, death and resurrection were all driven by love. It was because of His love why He sacrificed His life so we can be saved. His love is very far different from our own definition of love. Our love has limits, His was unlimited. We love because we can benefit something from it, but again, there is a limit. When we love, it won't even exceed to the point of sacrificing our lives for the people we love. At most, we can only just give things physically but other than that, nothing. We can really do nothing for our loved ones because we love with limits and conditions.
However, Jesus is very opposite, He loves us unconditionally and without limit. He even sacrificed His life so we can be saved. Jesus underwent physical harm and emotional harm as a human being just so we will be saved from the Father's wrath. Now, since we now know how far Jesus is willing to take just to save us, our verse today talks about going that far for our brothers and sisters too. Indeed it is very hard to love because it honestly requires sacrifices and abandoning ourselves for others.
John wants to remind and encourage us that Jesus Christ laid down His life for us, it was love incarnate. Him sacrificing His life for us was the highest manifestation of true love. Therefore, we are also called to lay down our lives for our brothers and sisters. Although John did not specifically require this reminder to be done through dying for our brethrens, it can also be too. However, what John was also talking about was being there for our brethrens at all cost. He listed the many examples on the proceeding verse today. Yet, the main point of all the listed things is that we are ought to be there for one another.
If our brethrens need something, we are driven to give them what they need. When they need our time, we are ought to give them it. If they need our prayers, let us pray for them. Now, we can then ask, so if this is what we are ought to do, then we don't see any sacrifices here? Well, being there for our brethrens requires a lot of sacrifices than we think it does. It requires our time that we would rather spend to work or alone. Being there for our brethrens requires our possessions, our feelings, our emotions and everything we can offer and that is the sacrifice that we will be not wanting to give. It may sound so easy but when we are put into the position, we will get tired of it.
Therefore, when we feel tired and think that it is too much for us to do, let us remember our verse today. John did not just write this verse with only the part of, "We are ought to lay down our lives for our brothers and sisters," but he mentioned first that Jesus laid down His life for us all so we can have encouragement. He specifically reminded us that when we are tired, we must remember what Jesus did for us and we don't even deserve it.
Thus, we are really called to sacrifice our lives for our brothers and sisters as a reflection of God's love in our lives. May we always remember this truth and always be encouraged to love one another. Let us let the love of Christ dwell in us richly as we continue to love one another and serve one another. After all, Jesus came to the world not to be served but to serve, so let us also use our new lives in Christ Jesus to serve others.
---
For more daily reflection, verse and encouragement, you may follow us. You can also like, follow and visit us on: