Daily Bread
Compelled by the Love of Christ – 2 Corinthians 5:14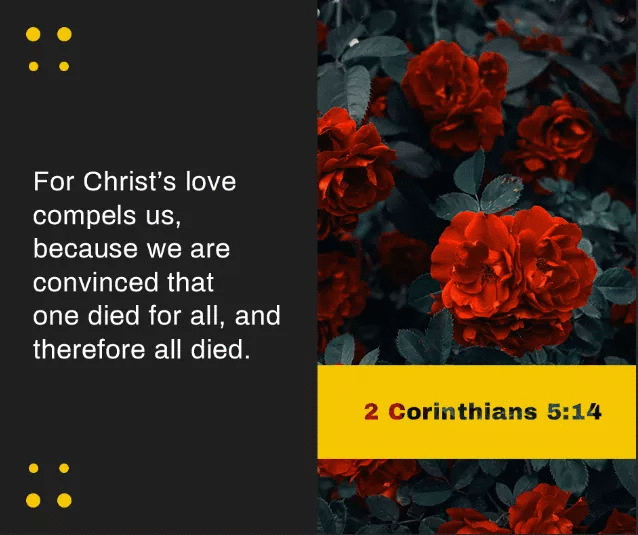 "For Christ's love compels us, because we are convinced that one died for all, and therefore all died." – 2 Corinthians 5:14
Have you ever done something that you are just compelled to do? Something unordinary for you but you cannot just stop because you are convinced to do it? Being compelled to do something we don't usually do can be positive or negative. In the case of our verse today, we can read that Paul has been branded or seen by people before as insane. He was seen as an insane person because people could not fathom the reason why he kept doing things that can danger his life, which is spreading the Gospel of Christ.
So, Paul answered those unvoiced questions through our verse today: "For Christ's love compels us, because we are convinced that one died for all, and therefore all died." He claimed that he and his companions are compelled by Christ's love to continue their mission. They were convinced that Jesus died for all and through Him we all can be saved, and that is the love they truly understands and that is compelling them. Now, in this situation, we can see that this is positive. By existence, Paul was a killer of Christians. Indeed spreading the Gospel and suffering for it was something out of ordinary for him— well at least for the people who were watching.
Paul, who was called Saul before, was known as the persecutor of all Christians. He was the one who killed many Christians before with his own hands. However, indeed God can turn anything ugly to a beautiful one. God turned Saul into Paul and he became one of the foundations of the early church. Although he was a killer of Christians, he was made new and God used his life to be the instrument of spreading the Word about His love. Now, since Paul was a changed man, he was compelled by the love of Christ to do these things that were not normal to him.
However, the moment he was changed, his whole lifestyle and his life has been changed too. So, it may not be a normal thing for him to talk about Christ, after he was changed, it was normal for him and it was a duty for him as a Christian who fully understood how much God loves him. Therefore, he testified that it was not because he and his companions were insane, but it was because of the gratefulness they felt inside their hearts having the full understanding of Christ's love towards them.
Now, as Christians who are also saved and changed by Christ's death and resurrection, we are ought to do the same. Christ's love should be our drive to love others too and to live a changed life. His love should compel us to do extraordinary things for His Gospel for it is right and just. We should have a grateful heart to understand that God is not making us do this because He is God, like He is controlling us, but we should understand that we are doing this because we know how much He loves us. We know that His love is not only for us, but for everybody so we should not hoard it.
Indeed Christ died for us all, His death has saved us from our punishment and sins. Now., through Christ only we can have eternal life. Through Christ we feel what true love is and how gracious He is. Thus, we should be like Paul and be compelled to spread the Word of God to others and to love our lives holy and pleasing to the sight of God. We may face many blockages like the people who mocked Paul and his companions because of our pasts, let us hold on to the truth that we are saved and forgiven. The past cannot hold us any longer because we are saved and as saved people it is our duty to tell the world about the salvation we have in Christ.
---
For more daily reflection, verse and encouragement, you may follow us. You can also like, follow and visit us on: