Daily Bread
Love and Faithfulness of God Reaches to the Heavens – Psalm 57:10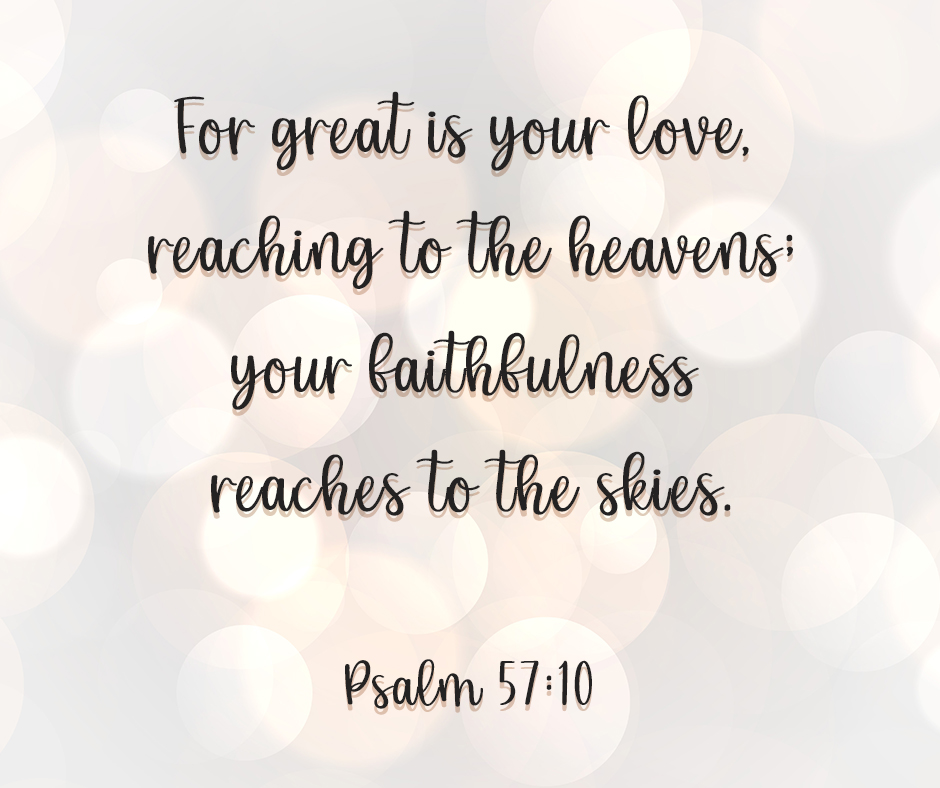 "For great is your love, reaching to the heavens; your faithfulness reaches to the skies." – Psalm 57:10
As people who depend so much on our good God, most of the time we realize that indeed we are very thankful that our God is loving, faithful, good, gracious, merciful, unchanging and etc. by existence. We should reflect on how good our God is and how loving He is. Even with just those attributes, we can say that we are blessed because the God who made the heavens and the earth is like that. If God was not loving, gracious, faithful and just, we would be doomed in hell.
Praise God for He is by existence, loving, good, gracious, faithful, just, merciful, unchanging and many more. So, our verse today reminds us of the attributes of God. David declared that God's love is great that it reaches to the heavens and His faithfulness reaches to the skies. When we try to put our perspective in this verse, we can then realize that we are really small and dependent. As a person looks up to the heavens, one can see the greatness of God.
Between a person and the heavens, we can literally say that it is too far. The distance between us looking at the heavens are unfathomably far but when you disregard the thought of distance, we can even say that it is just near. This feeling is just like how David describes God's great love. By calculated distance, it is far greater for he used the term "reaches to the heavens", thus, indeed God's love is so great, the same as how far the distance of a person to the heavens— that's how much God's love is for us.
However, without thinking of the distance, God's love is so great because it is also so real and attainable. Even if the distance between man looking up to the heavens and the heavens, God's love feels more real and nearer. His love is always there, comforting us, shielding us, wrapping us perfectly into His wings of security. Indeed His love is reaching to the heavens. His love came down to heaven so that we will be touched by it and we will experience true love. God's love is completely manifested by Christ. He may seem so far away, but He is nearer than we thought.
David also declared that God's faithfulness reaches also to the skies. As unfaithful as we are, God is the opposite because He is very faithful. His understanding and patience for us is very wide to the point that even if we became unfaithful to Him, He remained faithful. However, we also have to understand that God is not in need of us. We need Him! We need His faithfulness because if He is not faithful, we are not in our place today. We're probably suffering death and eternal condemnation. Yet praise God! His faithfulness reaches to the skies and His mercy is overflowing.
Therefore, as we live our lives thinking that God owes us something, we must change that mindset. We must learn to understand that God does not need us but we need Him. All of us need His love, His grace, His mercy, His faithfulness because we don't even have those attributes. We are nothing but sinners. All of us are sinners and we always desire to do evil but because of God's love fully manifested through Christ, we are now made new and we are now made wonderful. His love indeed reaches to the heavens and His faithfulness reaches to the skies.
Through Christ, these attributes of God are fully manifested and through Christ, we can experience all of these. Thus, let us live our lives being grateful to God and obeying His commands. We should live our lives imitating Christ for it is our only response to the goodness of God in our lives. His faithfulness, His love, His grace should be our drive to walk away from sin, it should not be used to become our excuse to sin.
---
For more daily reflection, verse and encouragement, you may follow us. You can also like, follow and visit us on: